Falklands "Time Capsule" to celebrate 250th anniversary of flying the Union Flag in the Islands
Thursday, January 29th 2015 - 19:53 UTC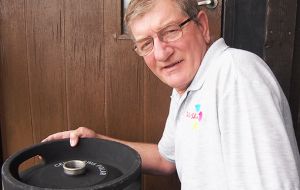 As part of the celebrations of the 250th anniversary of the Union Flag being raised by English Commodore John Byron in the Falkland Islands, on 21 January 1765, more precisely on Saunders Island, a ceremonial sod of turf was raised on the site for a "Time Capsule" to be buried.
The idea was among many to celebrate the landmark event in Falkland's history and was organized by Mr. "Taff" Davies, a British forces veteran and resident of Stanley. The time capsule is to be opened in 250 years on the 500th anniversary of the day.
"Taff" asked for suggestions to mark the event on the Falkland Islands Community Board on Facebook and decided to make the idea a reality.
Davies chose a 50 liter beer keg for the capsule as it is made of stainless steel, coated in polyurethane and could be sealed and buried and would be able to withstand the rigors of time. It will be filled with a wide range of artifacts from letters, to USB sticks, to the tickets that the visiting dignitaries used to fly to Saunders Island.
Mr. Davies said that the capsule was intended to show a slice of Falklands life with local school children, businesses, organizations and private individuals contributing. It will then be filled with inert gas to protect the contents and buried early in February.
Celebrations for such a significant event in Falklands history will also include this Saturday a day of fun at the racecourse on Saturday, January 31, from midday to midnight.
This will include food vans, a bar, fun events on the course, such as football, foot events and a bouncy castle and most excitingly a produce fair. Later in the evening an open air concert is planned with both local and military bands playing.
History indicates that between June 1764 and May 1766, Vice Admiral The Hon. John Byron completed a circumnavigation of the globe as captain of HMS Dolphin. This was the first such circumnavigation that was accomplished in less than two years.
During this voyage, in 1765 on a day between January 21 and 23, he took possession of the Falkland Islands on behalf of Britain on the grounds of prior discovery and established Port Egmont on Saunders Islands.
Another expedition arrived around a year later in January 1766, led by Captain John Mac- Bride, with the ships HMS Jason, HMS Carcass and HMS Experiment after which Carcass Island and the Jason Islands were named.