Only family and friends at AMIA prosecutor Nisman's wake
Thursday, January 29th 2015 - 06:15 UTC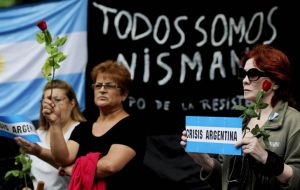 A wake for Argentina's AMIA special prosecutor Alberto Nisman was held Wednesday afternoon in a ceremony with his family and friends. His body will be buried Thursday at the Tablada Israeli Cemetery, the Jewish News Agency (AJN) reported.
The wake took place at O Higgins 2842 in Belgrano neighborhood, Buenos Aires City. Nisman's body was delivered to the family on Wednesday, after his ex wife, Sandra Arroyo Salgado, rejected a new autopsy on Tuesday.
A small ceremony for the prosecutor's family and friends was accompanied by a protest at the gates of the funeral home. A group of demonstrators caused damage to a wreath sent by the office of Argentina's Attorney General Alejandra Gils Carbó, while some threw stones from outside the service.
Nisman's mother Sara Garfunkel, his former wife, other family members and friends were the few at the funeral home which was surrounded by tight security. Those wishing to have access had to show their documents. The media has been barred. Among the few that had access was AMIA president Leonardo Jmeinitzky, US ambassador Noah Mamet, Buenos Aires City Security Secretary Guillermo Montenegro and Federal magistrate Ariel Lijo.
The funeral procession will leave Thursday 09.00 in the morning, and on arrival at the cemetery there will be a religious ceremony by rabbi Marcelo Polakoff.
The prosecutor was found dead with a bullet to the head on his bathroom floor on January 19, on the night before before he was set to attend a congressional hearing to accuse president Cristina Fernández de Kirchner and other officials of covering up Iran's involvement in the 1994 AMIA bombing.