Nisman death: Clarin was right, draft document requesting detention of Cristina Fernandez exists
Wednesday, February 4th 2015 - 09:39 UTC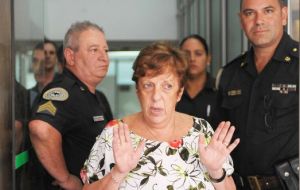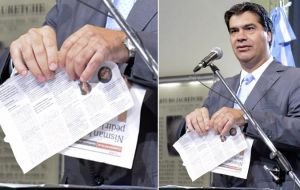 Argentina's prosecutor in charge of investigating the death of Alberto Nisman, Viviana Fein has rectified information regarding a draft document involving a detention request for President Cristina Fernández, foreign minister Hector Timerman and a member of Congress, whose existence she had first denied.
It has been a "mistake," Fein said on Tuesday explaining the draft papers are part of Nisman's death case.
"I want to make something clear. Yesterday (Monday), I issued a statement by the Public Ministry, it was not done in my office. The Public Ministry works impeccably right. It was an interpretation mistake," Viviana Fein told reporters pointing out the draft AMIA special prosecutor Alberto Nisman had prepared seeking the detention of President Fernandez and other officials for the alleged involvement in covering Iran's role in the 1994 bombing of the Jewish community center, did effectively exist.
"I want to tell all media that I assume responsibility for the mistake. We have 1,400 working papers. I am in the margins of any political position and receive no pressures. I cannot talk about times. Nobody is lying, (information) is not distorted, it was a mistake," Fein assured.
On Monday, the prosecutor had denied the existence of such documentation after the Clarín newspaper reported Nisman was working on the detention request with a draft paper found in his apartment after his death. Apparently the AMIA prosecutor wanted Cristina Fernandez impeached by Congress so then she could be detained.
Following the statement by the prosecutor, Cabinet Chief Jorge Capitanich on Monday ripped up pages of the daily in an attempt to show Clarin – one of the government's leading media critics -, was providing inaccurate information on the Nisman case and his alleged intention to demand CFK's detention.
On Tuesday in his daily press briefing to the press at the government house, Capitanich blamed "ousted intelligence groups" for the information that prompted his reaction.
"It is a strategy plotted clearly by ousted intelligence groups. Looking for trash in possible documents, which are not part of the report, it has no sense," the head of ministers stated, insisting that Clarin only published 'rubbish' with the purpose of conspiring against the government of President Cristina Fernandez.
But Capitanich was not the only official to attack and discredit the ongoing investigation. After prosecutor Fein rectified information Secretary General to the Presidency Aníbal Fernández said that she "has made a fool of herself."
"What Prosecutor Fein did was a big show" Fernández stated in an interview. "She is the one who said that there was no draft, it is an extraordinary mise-on-scene" he reiterated.
"Who brought this writ (to the Prosecution)? The Prefecture, the Police, the Clarin group, who?," Fernández said. "Nisman's apartment has not been cleaned since June?," he asked with irony, since the document, dated from that month, was allegedly found in a trash bin in Nisman's home.
"The prosecutor could have never written that document because the arrest of the president cannot be requested," he added. And then the official aimed once again at ex Intelligence Secretariat agent Antonio "Jaime" Stiusso. "I am certain that Stiusso was Nisman's chief, I am sure that Stiusso was lying to him."