HMS Dragon calls at the remote Tristan da Cunha Island
Thursday, February 5th 2015 - 09:18 UTC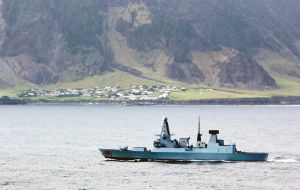 The Royal Navy's Atlantic Patrol Tasking HMS Dragon called at Tristan da Cunha, one of the most remote islands on the planet, on the latest stage of her Atlantic deployment. There is no land to the west for more than 2,000 miles, South Africa is 1,750 miles to the east and the nearest inhabited locality is another British Overseas Territory 1,510 miles away.
With no airfield, the volcanic isle, home to 257 British citizens – almost all of them living in the 'Capital', Edinburgh of the Seven Sea – can only be reached by sea.
It has been over a year since a Royal Navy warship called at Tristan, the last visitor was the Type 23 Frigate HMS Richmond in November 2013.
With a small harbor the island is not able to accommodate an 8,500-ton warship, so the Portsmouth-based Type 45 destroyer used her sea boats and Lynx helicopter to ferry personnel and supplies from ship to shore.
The visit may only have lasted 24 hours but during that time the Lynx lifted numerous fence posts to otherwise inaccessible parts of the dormant volcanic island to help keep cattle from straying.
Some personnel went ashore to climb all 6,765ft of the island's volcano but could only get as high as the cloud base so returned to Edinburgh to play football with the locals.
Tristan relies heavily on crayfish as a source of revenue so to mix things up a little Dragon landed with stores of pork, sweets and traditional British sauces such as HP – things islanders struggle to get hold of normally.
"Tristan is truly breath-taking and it was fantastic to get ashore and meet the people, who were friendly, kind and really pleased we had taken the time to visit and help them," said Lieutenant Stuart Greig, the destroyer's deputy logistics officer.
Tristan's administrator Alex Mitham said Dragon's appearance was "very much appreciated." He added: "This remote isle receives few visitors, and to welcome a Royal Navy vessel is very special".
"On a personal note I cannot thank the ship enough for their incredibly kind generosity and hospitality – not only for hosting the police officer, chief islander and me on Dragon, but also for the helicopter support, the patrols for illegal fishing, and for the professionalism the whole crew showed towards the islanders".