Argentine prosecutors confirm 'silence march' marking a month since Nisman's death
Friday, February 6th 2015 - 21:57 UTC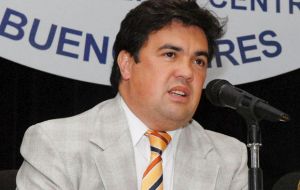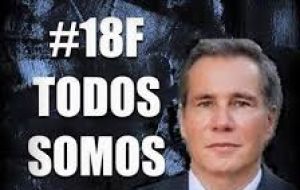 Argentine prosecutors and the judicial employees union have officially called for a demonstration on February 18 marking a month since the death of Alberto Nisman who was in charge of investigating the bombing of the AMIA Jewish community center that killed 85 people back in 1994.
The same week he was found dead in his apartment, Nisman had accused President Cristina Fernández and Foreign Minister Hector Timerman among other government figures of covering up Iran's alleged involvement in the attack.
"We have decided to pay tribute (to Alberto Nisman) on February 18 with a march in silence from the Congress to the office that Nisman run," prosecutor Guillermo Marijuán told reporters at the entrance of the courthouse in Buenos Aires City, calling "all the citizenship" to join the commemorative event.
"It is a march against nobody. It is for silence and respect," he said.
"We want it to have no political connotation. We don't want anyone using this march against anybody; it is in peace and in silence," Marijuán insisted.
"We want this silence to represent the peace we need and the peace that investigators need to solve the case. It is also a recognition to his work and the sorrow that overwhelms us. If there are going to be flags, they should only be Argentine flags."
On his behalf, prosecutor Carlos Stornelli warned the Nisman case "is first of its kind but it might not be the last one" describing the situation a "cesspool that overflew."
"The national State must guarantee the independence and safety of all investigating prosecutors, even when we investigate them. Independence of prosecutors and judges is one of the mainstays of democracy," he said.
Prosecutors Ricardo Saenz and José María Campagnoli along with head of the judicial employees union Julio Piumato were also present during the announcement.
Meanwhile Argentine cabinet chief Jorge Capitanich said the federal government is "respectful of all public demonstrations" but responsibilities of the Judicial branch must not be "transferred" to the Executive power, when asked about the so called "Silence March"
"We are respectful of all public demonstrations of all kinds and characteristics, but we must analyze why this march is taking place; it must have an objective that those organizing it must explain" underlined Capitanich.
"The Judicial branch is the one that has to investigate and no one can say there is an interference of the Executive power," he affirmed referring to the demonstration that will take place on February 18 marking a month since the death of AMIA special prosecutor Alberto Nisman.
"There is a prosecutor (Viviana Fein) who is a colleague of those attending the march, who is responsible of the investigation; it is judicial officials who have the responsibility to shed light on the case," Capitanich stated and urged opposition sectors to not "transfer responsibilities to other branches of the State."