Argentine industry fearful of some clauses in agreements signed with China
Thursday, February 12th 2015 - 06:25 UTC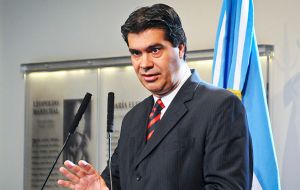 Argentina's top officials will meet on Thursday with representatives from the Argentine Industrial Union, UIA, to discuss some clauses and aspects of the recent agreements signed between China and Argentina last week, and which have been questioned by the manufacturers' lobby.
Cabinet Chief Jorge Capitanich announced that government officials will meet with industrial leaders to discuss the 22 agreements signed between Cristina Fernandez and her counterpart XI Jinpiao last week, on Thursday and not on Friday as had been originally anticipated.
The chief of ministers explained that Economy Minister Axel Kicillof, Federal Planning Minister Julio De Vido, Foreign Minister Hector Timerman, Industry Minister Débora Giorgi and himself will meet the UIA representatives, as ordered by President Cristina Fernández following a request by the UIA.
But an idea of what the government's arguments can be expected was advanced by President Cristina Fernandez during a live conference on national television. She strongly defended her government's record in promoting local business and industry and launched a fierce and ironic attack on the UIA and the chamber's negative stance on agreements with China.
"It is hard to understand why they would spit on the barbecue. Or maybe there are interests in play which are not commercial, but political" said Cristina Fernandez, adding that "it's interesting to see how some are worried about cheap labor coming, when they have been pushing for devaluation in order to destroy salaries."
At his daily press conference at the government house, Capitanich defended the 22 new agreements signed by Cristina Fernandez in Beijing, saying they will ensure "infrastructure works that will significantly reduce systemic costs and stimulate economic development."
"It is an structural, long term agreement. It is part of a State policy," the official said. "We will explain its scope to the UIA because we have complementary economies. They demand goods that we produce and we demand what they produce," he added.
The UIA has expressed its concern over the effects of two articles in the agreement concerning direct allocation of infrastructure works that have Chinese funding and the labor conditions of Chinese workers.
"We always defend the Argentine work," Capitanich stated and he pointed out that since ex President Nestor Kirchner took office in 2003 the unemployment rate has dropped from 25% to 7%. "We are defending the industrial production matrix, that should suit industrial leaders," he said.
In her evening speech and reacting to criticism from UIA, Cristina Fernandez reflected that "we will see what the Chinese do and we will also see what we do".
She added "do not take Argentines for fools. Since when have businesses cared if cheap labor was coming over from China?"
"It is hard to understand why they would spit on the barbecue. Or maybe there are interests in play which are not commercial, but political," she said.
"This government has prided itself on defending Argentine jobs and Argentine business leaders, unlike any other government that came before it," the head of state fired during the live transmission.
On Tuesday after an almost three-hour meeting, UIA agreed to back the federal government's "deeper" relationship with China but also asked to meet with President Cristina Fernández and with lawmakers to demand explanations of the agreement signed between both countries and passed by the Lower House of Congress.
"After a wide exchange of ideas, we agreed on the importance of a deeper global integration and specifically with China. We expressed our concern over the effects of two articles in the agreement — direct allocation of infrastructure works that have Chinese funding and the labor conditions of Chinese workers," UIA said in a press release. "Both issues could affect the local supply of goods and services."