Cristina Fernandez to remain in Patagonia until after the 18F 'silent march'
Saturday, February 14th 2015 - 06:46 UTC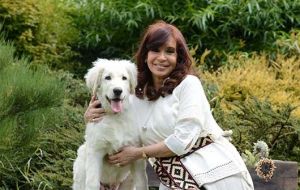 Argentine president Cristina Fernandez will remain with the family at her private home in El Calafate, Patagonia, most of next week thus avoiding the Wednesday 18 February 'silent march' organized by prosecutors and judicial unions on the month of special prosecutor Alberto Nisman's still unsolved death.
After been charged for the cover up of Iran's masterminded 1994 terrorist attack on AMIA, as had been originally exposed and presented by Nisman, Cristina Fernandez is expected to try and recover political initiative with the opening in the Santa Cruz province of a series of public works such as a theatre, a high tech hospital, housing and an expansion of avenues and streets.
The president is also scheduled to attend the traditional Lake Feast at the new theatre where several well-known Argentine rock and folklore music groups will be playing.
As has happened in other complicated political scenarios the Argentine president has chosen to take refuge in El Calafate, originally the political turf of the Kirchner couple. This time however she has additional reasons: not only Monday and Tuesday are Carnival holidays but on the 16th is her son Maximo's birthday and on the 19th, Cristina will turn 62.
On February 18th in Buenos Aires, the 'silent march' will follow a route from Argentina's Congress to the iconic Plaza de Mayo where the office of AMIA's case special prosecutor Nisman's office is located.
Without mentioning it, Cristina Fernandez in her last speech on national television, and addressing militants assembled in Government House questioned the silent march by saying "let them (the marchers) keep silence, they always liked silence".
But the blunt when not clumsy cabinet chief Jorge Capitanich in his daily press conference spared no criticism of the 18F demonstration marking a month since Nisman's death.
Although he said the government was "very respectful of popular demonstrations," Capitanich considered "worrying" a rally that has been called by "the same who justify baby theft during the dictatorship."
"How worrying a rally called by those who justify the theft of babies during the (military) dictatorship, or when they are lawyers of well known drug traffickers, or when there is an integration among the intelligence services and prosecutors and judges, when none of this should happen," the official warned.
"It should be investigated if judges and prosecutors received non-declared resources to carry out (anti-government) operations", blasted Capitanich.