Brazil and Argentina agree accords signed with China will not affect Mercosur
Tuesday, February 17th 2015 - 05:13 UTC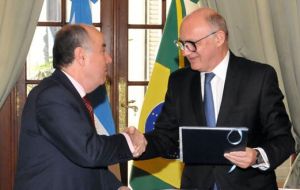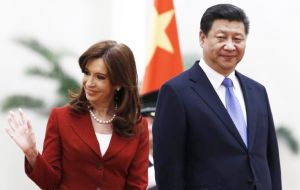 Brazilian foreign minister Mauro Vieira discarded that the recent agreements reached by Argentina with China can interfere with Mercosur, while his Argentine counterpart Hector Timerman said that the package of accords with Beijing will "actually benefit Mercosur".
Last week Vieira visited Buenos Ares, his first overseas trip since his nomination, ratifying the strategic significance Brazil attributes to Argentina, its main trade partner and associate in Mercosur.
"The relation with China is open and intense with all the countries of the region and members of Mercosur", said Vieira who recalled that bilateral trade of Brazil with the world's second largest economy amounts to over 80 billion dollars annually.
"These strategic links do not exclude relations with other countries", added Vieira in apparent reference to the 21bn dollars raft of agreements signed by Cristina Fernandez with Xi Jianpiago during her recent visit to Beijing.
Likewise Timerman said that "all accords with China are public and none of them impairs our relation with Mercosur. On the contrary, we believe they will be beneficial for Mercosur".
However the Argentina opposition in Congress is demanding that all accords be made public, entirely transparent, particularly those regarding the percentage of Chinese procurement of public works financed by China loans and which apparently also include a percentage of labor.
At last week's meeting in the Brazilian embassy in Buenos Aires, besides Timerman, Vieira met with Economy minister Axel Kicillof, Industry minister Deborah Giorgi, Federal Planning minister Julio De Vido as well as with business people from Brazil and Argentina.
Allegedly the delegations of Argentine and Brazilian businesspeople coincided in expressing their concerns about the expansion of Chinese investments in the region, and in Argentina, and the continuous erosion of Mercosur and its original objectives in trade, investment and tariff reductions.
Following the agreements signed by Cristina Fernandez with China, the Sao Paulo media questioned the extent and conditions of some of the agreements and how would they impact on bilateral trade and investment of Brazil with Argentina.
In effect, Brazil which enjoyed a strong surplus in trade with Argentina agreed to contain that figure, thus helping their trade partners, but on condition that the spaces left void by Brazil were not filled by Chinese goods. This has become an ongoing debate between the two countries: Brazil anxious to keep its comfortable share of the Argentine market, and Argentina desperate short of hard currency and willing to agree to some controversial clauses in the accords signed with China.