Figo pledges to distribute FIFA's reserves and a world cup with 40 teams
Friday, February 20th 2015 - 07:16 UTC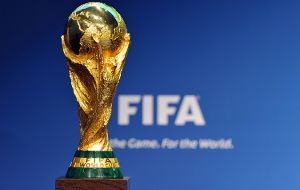 Luis Figo has pledged to distribute "2.5 billion" among the member associations of FIFA if he is elected president in May. He also wants to expand the World Cup, and proposes a term limit of 12 years for the presidency.
The Portuguese former football star set out his financial policy alongside other ideas in his manifesto at London's Wembley Stadium, the home of English football.
FIFA's billions in reserves, much of which is generated from the World Cup, is not the best kept secret. In order to "rebuild trust" in world football's governing body, Figo used his press conference on Thursday to show his campaign was focused on grassroots football around the world.
"I am proposing 50% of FIFA revenue 2.5billion dollars distributed to national associations over four years" he said. "The national reserves should be freed up and invested in football development.
"I am proposing $1 billion of FIFA's reserves returned to FIFA associations.
"This money is not FIFA money. It is the money of FIFA associations and it should be spent on football. I have set out in my manifesto how this would work. The impact of these proposals would mean 8-12 million dollars distributed to every association over four years."
The numbers Figo quoted will certainly help curry favor with smaller FAs in the build-up to the vote in Zurich on May 29. He has also stolen a march on his rivals by publishing his 19-page manifesto – fellow candidates Michael van Praag and Prince Ali bin al-Hussein have both held press launches, but have not released documents.
Current president Sepp Blatter has not yet held any event to launch his bid for re-election.
The other point of note from Figo's manifesto was his plan to expand the World Cup to include up to 48 teams.
The tournament as it is now includes 32 teams, but Figo would seek a debate in congress on increasing that number.
"I want to have an open debate on future of most popular event on the planet," he said. "We should consider proposals to expand the tournament from 32 to 40 or even 48 teams. Both these are possible with an extra three or four days of play. Additional teams should come from non-European nations."
But the World Cup was not the only part of FIFA Figo had an eye for changing.
In plans to restructure the top of the organization, the Portuguese wants to introduce for each confederation one additional seat on the FIFA executive committee for each of its member associations that have won the men's World Cup, with a maximum of eight members per confederation.
For all his grand plans, Figo faces a tough task to unseat Blatter who is seeking a fifth term in office and can boast huge support from African and Asian federations in particular.
Asked whether he expected to win, Figo said: "Well as the days goes by I am more and more hopeful than when I decided to run for presidency and I started getting a lot of support from many.
"I am quite hopeful to receive all the support I need to be a winner. I'm more and more convinced to achieve my objective; to work for football, to improve the organization and mainly for football to benefit from this debate."
But later he added that he was "aware that the African continent will be one of the obstacles to overcome".
"We are working towards getting as much as support for my candidacy through my manifesto and ideas," he added.
Blatter has been FIFA president for 17 years, since 1998. However Figo would propose to the congress a term limit of 12 years – a similar concept was rejected by the FIFA congress in Sao Paulo last year. (WFI).-