"Open your heads: world is different, China leads", argued Cristina Fernandez
Monday, March 2nd 2015 - 06:55 UTC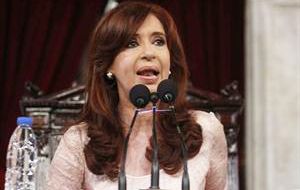 "I'm asking all Argentine and mainly those who have aspirations of leading the country, to open their heads", said Cristina Fernandez in reference to the recently signed agreements with China, which are in the framework of an "integral strategic association" and have under strong criticism.
"Who could imagine what happened back in the 2008 (crisis); we are in a completely different world after 2008, because what defines facts is not the economy but politics" added the Argentine president in a passage of her speech to Congress on Sunday.
"Who could have thought that an American president was to send to congress a bill with the lifting of the blockade on Cuba. The world will be different in five years time, and in five years, China will become the world's most important economic actor".
"If all our lives they have told us to have carnal relations with those who did not give us anything while they took everything from us, how can we not have normal, diplomatic, economic and strategic relations with those who offer us investments?," she said, comparing the current rapprochement to Beijing with Argentina's ties with the US in the 90s.
"You cannot be so small-minded, colonized minds my dear friends," fired the Argentine president against the critics of the deals with China.
"How can we leave out 1.353 million people, the first actor in world economics, which has a permanent seat in the UN Security Council?" asked the president.
"I've been to all G20 meetings. I can assure you that dialogue between China and the US is permanent and nothing comes out of those meetings unless it has the consent from the US and China. Please drop the intellectual corset you are tied up to", concluded Cristina Fernandez.