Argentine police discover 15 kilos of pure cocaine in the 'Splendour of the Seas'
Saturday, March 21st 2015 - 06:20 UTC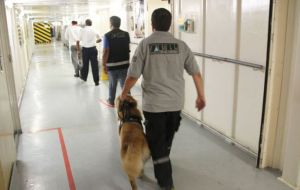 Argentine customs officials seized cocaine worth more than one million dollars million from two crew members on a luxury cruise ship docked in Buenos Aires, authorities said. The suspects, both men, were identified only as a Croatian national and a Chilean traveling on an Australian passport.
They were detained as they tried to board Royal Caribbean line's Splendour of the Seas with packets of cocaine taped to their bodies, Argentina's AFIP tax agency said in a statement.
Authorities with trained dogs then searched the pair's cabin on the ship and found 10 additional bricks of cocaine inside a backpack with different kinds of wrapping, some of them with the same pattern as the packets they carried on the suspects' bodies.
The cruise ship arrived in Buenos Aires on Monday from Punta del Este, Uruguay, and was scheduled to depart for Brazil en route to Europe, where, according to AFIP's estimate, the 15.8 kilograms of high-purity cocaine would have had a street value of more than 1 million dollars.
Earlier in the month Royal Caribbean announced that it had entered into an agreement to sell 'Splendour of the Seas' to TUI Cruises in the second quarter of 2016. The ship will then be leased to Thomson Cruises, which will operate the vessel.
The cruise vessel will complete all scheduled open deployment, and no sailings will be altered or disrupted due to the sale. "Splendour of the Seas has been a treasured member of the Royal Caribbean International family since she entered service," said at the time Michael Bayley, president and chief executive officer of Royal Caribbean International.
Splendour of the Seas joined the Royal Caribbean International fleet in 1996, and was built by Chantier's de L'Atlantique, now STX France, in St. Nazaire, France. The 69,130-ton ship carries 1,830 guests (double occupancy) and 760 crew.