Cristina Fernandez invites Russian investors to Argentina; Thursday she meets Putin
Thursday, April 23rd 2015 - 04:50 UTC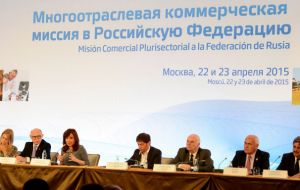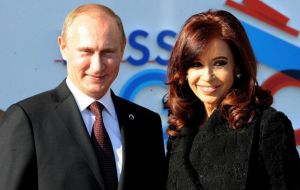 "Argentina is a country where it is worth investing in and producing, not only because of its natural resources, also because of the human resources we have" said president Cristina Fernández in Moscow on an official visit to Russia. She praised the "recovery of Argentina's flag carrier that allows connectivity among all the zones in the country, not only the richest ones."
The Argentine leader was the main speaker on Wednesday at a forum attended by Argentine and Russian business leaders where she also explained why the 'strategic' links with Russia and called for a "redefinition of the role of the State", which must not only include market factors but also "consumers, producers and industry".
Cristina Fernandez then spoke about the recovery of Argentina from the 2001/2002 economy melting and how the country was experiencing "the highest growth cycle in our history."
"We have overcome the economic model that we are seeing in Europe which considers adjustment brings growth. That is a lie because if there is no good salary, people don't consume, don't sell and there is no production, especially when there is no much consumption in the world."
In her message, the president strongly questioned pro-adjustment policies considering they cause "huge discontent, bad expectations and institutional instability." "If we add a foreign restriction to an internal restriction, we are burying the economy; that is why the theory of adjustment is not a solution. Adjustments cause huge discontent, bad expectations and institutional instability. Argentina had five presidents in a week, in 2001, there you have institutional consequences," President Fernández said referring to the economic and social crisis that burst more than a decade ago, prompting Argentina's historic default.
The Wednesday forum was the first official activity of the Argentine leader in Moscow in the margins of a two-day visit that will take her to meet her Russian counterpart Vladimir Putin on Thursday.
Cristina Fernández highlighted as well the existence of a "new economic and geopolitical order" that urges nations to "conceive each others as partners," not just as "buyers and sellers."
"It is not that one ignores the market, but when we talk about the market today, we talk about four or five men in the financial sector who decide on the luck of countries. If we want to make real capitalism we have to take into consideration that market is supply and demand, (involving) workers and traders. I mean, we have to reformulate the rules that stop such distortions that also take place in the world of communications."
The president also underlined the significance of Russia in the world stage and the importance of establishing strategic links not only in trade and food produce, but in other fields such as energy, nuclear and satellite cooperation and advanced technologies.