Uruguay insists Mercosur must achieve "a free trade zone which effectively works"
Wednesday, April 29th 2015 - 22:48 UTC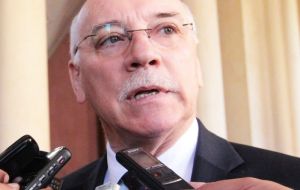 Uruguay again complained about the current stalled situation of Mercosur and called for members to 'sincere' themselves regarding the compliance of the original 1991 founding charter, and hopefully "we can at least reach the first stage of the chronogram: a free trade zone which effectively works and has not to bear the brunt of hurdles".
Rodolfo Nin Novoa, Uruguay's foreign minister made a brief visit to Paraguay, also a member of Mercosur, to address a bilateral agenda with his peer Eladio Loizaga and later a courtesy visit to Paraguayan president Horacio Cartes.
"To have Mercosur members 'sincere themselves', means complying with the treaty on free movement of goods, services and production factors, as established in the charter", said Nin Novoa.
"That is what I mean by 'sincerity', which means taking Mercosur at least, to a first stage of a free trade zone which works as such, with no hurdles. That if they exist, hurdles are minimum; where there are no interferences and where we can deploy all our potential" insisted the Uruguayan official.
Minister Loizaga on his side said that Paraguay "wants to make Mercosur more dynamic, and hopefully we can develop outwards, outside of our fences", in direct reference to the stalled trade talks with the European Union, which have been ongoing in different chapters since 1999, but remain unconcluded.
As to the bilateral agenda addressed by the ministers, Loizaga said that ports were high in the list, multilateralism, (obviously Mercosur going through one of its worst moments) and energy, "Uruguay is particularly interested in connecting with us (Paraguay)".
"Paraguay is a world energy power, with abundant surpluses, and in Uruguay we have some shortcomings", said Nin Novoa again revealing Uruguayan interest in power from landlocked Paraguay.
"We need to reach a regional power agreement" insisted Nin Novoa. In effect Uruguay's interest is not new: back in 2011 Argentina blocked the passage of Paraguayan power to Uruguay through its territory by pretending tolls which made the whole operation non commercial.
Landlocked Paraguay in the heart of South America enjoys abundant water flows and shares with Brazil the Itaipú dam, and with Argentina, Yacyretá. The first provides Brazil with over 30% of all its electricity, and Yacyretá almost 20% of Argentina's power needs.