Argentine S. Court ratifies Chief Justice; Cristina Fernandez wants to impeach a second Justice
Wednesday, May 6th 2015 - 06:42 UTC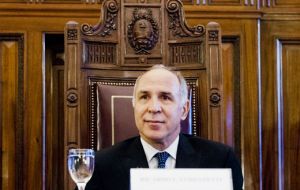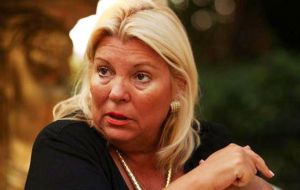 In another chapter of the ongoing dispute between Argentine president Cristina Fernández and a non-submissive Judiciary, the country's Supreme Court issued a statement on Tuesday ratifying Ricardo Lorenzetti as Chief Justice for three more years starting in 2016, following versions that he was pushing to leave the SC on yet unclear "moral fatigue" grounds.
"The Supreme Court of the Nation communicates that, facing versions that were published today, it ratifies totally and completely the authorities designated through the April 21, 2015 11 resolution," the statement that was released on Tuesday read.
Lorenzetti, is currently in Italy where he will be spending the next few days, was reelected on April 21 in an anticipated election to renew his term as president of the Supreme Court as of January first, 2016.
The voting, which usually takes place in October, is currently being questioned following alleged irregularities in the process by justice Carlos Fayt, who was first said to had attended the tribunal to vote but versions indicated later he had remained at this home.
On Monday, sources close to Lorenzetti told the press about a conversation he had allegedly held with his colleagues in the SC, Juan Carlos Maqueda and Elena Highton de Nolasco, in which he would have referred to "moral fatigue," saying he would be ready to leave the Court.
At the same in the Argentine congress a new lawmaker became the head of the Lower House Impeachment Trial Committee, vowing to start next week an impeachment process against Supreme Court justice Carlos Fayt, who is 97 and the target of the Victory Front (FpV) grouping of president Cristina Fernandez.
Anabel Fernández Sagasti, 31, is replacing Adela Sagarra, also a FpV lawmaker, counting with the majority of votes of the members of the Committee. When taking the post, the Mendoza-province-born lawmaker called colleagues to respond to "existing demands."
In the meantime, FpV legislator María del Carmen Bianchi requested a meeting for next week to address the "public reports that have gathered major volume and evidence over the health condition, which refers to the oldest member of the Supreme Court of Justice," alluding to Carlos Fayt who was appointed for the job in 1983. The Supreme Court justice is now 97 years old.
Considering the debate over Fayt had a "priority nature," Bianchi said the matter has to be discussed having "a special consideration of the value and work of the member of the Court," taking into account that "his function is in direct relation" with the full observance of Argentineans' rights.
Carlos Fayt has been put under fire over the past days following the reelection of Ricardo Lorenzetti at the front of Argentina's maximum tribunal, with government officials reporting irregularities in the voting. Cristina Fernandez wants to renew SC members with her appointees for which she believes she has the sufficient votes in Congress.
In the meantime, Civic Coalition (CC) lawmaker Elisa Carrió took the spotlight to defend Carlos Fayt keeping his SC seat, accusing the federal government of leading an "operation" against the 97-year-old justice with officials "showing an inhuman treatment."
"We are facing the most terrible and cruel operation against the great teacher of Argentine law, Carlos Fayt," Carrió said in a statement today affirming national authorities were "showing an inhuman treatment that unveils the perversity of La Cámpora, (President) Cristina Kirchner and Aníbal Fernández."
"The cruel and inhuman treatment violates not only the division of powers, elementary human rights, but also seems similar to violations in the terms of torture and a moral harassment of the violent against the pacific," the opposition MP assured. "Be strong, Doctor Fayt, they will not have it with you."