Scioli and Randazzo, the two hopefuls competing for Cristina Fernandez legacy
Friday, May 15th 2015 - 07:06 UTC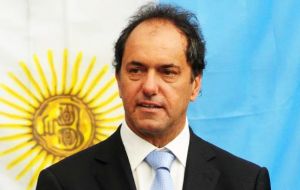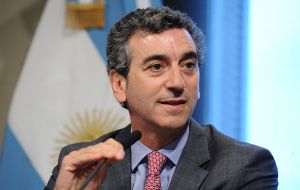 Buenos Aires province governor Daniel Scioli and Interior and Transport Minister Florencio Randazzo will be the only Argentine presidential candidates to compete in the coming August incumbent Victory Front, PASO primaries.
The news was confirmed in an official party statement after several hopefuls stepped down in their attempt to succeed Cristina Fernandez.
"In a crucial scenario for our history, when the world is experiencing several economic conflicts and a great political instability, directly and indirectly affecting our region, and where popular governments are permanently attacked by concentrated powers, we consider important to strengthen and accompany our partner President Cristina Fernández", the text read.
"In that sense, the Movimiento Evita has decided to decline the pre-candidacies for president of Jorge Taiana and of Fernando "Chino" Navarro for governor of the province of Buenos Aires, to put ourselves at the service of the strategy our President (Cristina Fernández) considers most convenient."
"We do it with full confidence in the leadership of the President who has always made decisions prioritizing the interests of the Argentinean people, workers and the humble," the political organization said.
"As the President has expressed, we will not call it a victory as long as there is one single poor in Argentina; we will continue serving for the triumph of the Victory Front (FpV) in the elections, building the popular organization the historical time demands."
President Cristina Fernandez had called earlier in the week for a "humility bath" from the proliferation of candidates and hopefuls in the ranks of her political group.
First Kirchnerite to say he was withdrawing from the electoral race was ANSES social security chief Diego Bossio, followed by Entre Ríos province Governor Sergio Urribarri and Social Development vice minister Carlos Castagneto. On Thursday it was the turn of Defense Minister Agustín Rossi and the Mayor of the Buenos Aires province locality of Berazategui, Patricio Mussi, now followed by Taiana and Navarro.