South Georgia and South Sandwich Islands coat of arms anniversary featured on new Crown coin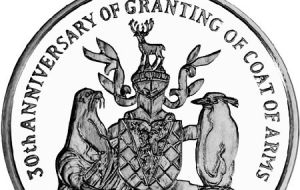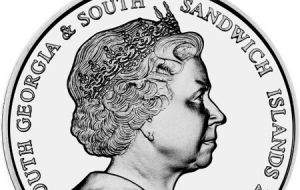 The Treasury of South Georgia & South Sandwich Islands have launched a crown coin which marks the 30th anniversary of the territory's granting of a Coat of Arms by Royal Ascent. The Coat of Arms of South Georgia and South Sandwich Islands was granted in 1985, upon the formal creation of the territory.
Prior to 1985, South Georgia and South Sandwich Islands was a dependency of the Falkland Islands and shared that crest.
The United Kingdom has claimed sovereignty over South Georgia in 1775 and more recently also over the South Sandwich Islands since 1908. South Georgia and the South Sandwich Islands (SGSSI) is a British overseas territory in the southern Atlantic Ocean. They are a remote and, some might say an inhospitable collection of islands, consisting of South Georgia and a chain of smaller islands known as the South Sandwich Islands.
The island of South Georgia is 167.4 kilometers or 104 miles long and is by far the largest island in the territory. The South Sandwich Islands lie about 520 kilometers or 320 miles southeast of South Georgia. There is no native population on the islands, the present inhabitants are the British Government Officer, the Deputy Postmaster, scientists, and support staff from the British Antarctic Survey who maintain scientific bases at Bird Island and at the capital, King Edward Point, as well as museum staff at nearby Grytviken, a former Swedish settlement established in 1904.
Grytviken is now a popular stop for cruise ships visiting Antarctica and tourists usually land to visit Polar explorer Sir Ernest Shackleton's grave. The South Georgia Museum is housed in the manager's house of the former whaling station, and is open during the summer tourist season.
The coin, struck by the Pobjoy Mint, UK on behalf of the Treasury of South Georgia & the South Sandwich Islands includes the Coat of Arms on the reverse.
The crest consists of a shield containing a golden lion rampant holding a torch, representing the United Kingdom and discovery. The background of the shield consists of blue and white estoiles, from the arms of James Cook who discovered the islands. The supporters are a fur seal and a macaroni penguin, both of which are native to the Islands. The crest of the shield shows a reindeer, from the two herds found on South Georgia Island. The seal stands on a mountain, while the penguin stands on ice. The motto is Leo Terram Propriam Protegat which translates to "Let (or may) the Lion protect his own land".
Available in Cupro Nickel (BU) and Proof Sterling Silver (proof), each precious metal coin has been carefully struck four times enhancing all details to perfection.
In cupro-nickel, 28.2 grams; 38.6 mm diameter, BU and unlimited mintage; and in .925 silver; 28.2 grams; 38.6 mm diameter; Proof and a mintage of 10.000 pieces.