Argentina is paradise: poverty below 5% rate Cristina Fernandez tells the world
Tuesday, June 9th 2015 - 07:49 UTC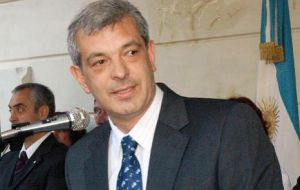 Argentine President Cristina Fernández sparked controversy on Sunday when in a speech before the FAO conference in Rome, she endorsed widely disputed government figures on poverty, saying the rate was "below five percent," adding that destitution in the country stood at 1.27%. If this was correct Argentina's poverty rate is below that of OECD rich league members.
The figures quoted by the president were almost identical to those issued by the INDEC statistics bureau in 2013, when it last published poverty estimates. Since then Argentina has been awash with competing figures on poverty and destitution, as some opposition estimates claim the rate could reach as high as 36%. The Argentine Catholic University put the figure at 27.5% in 2013, and Argentine unions estimates are between 18% and 29%.
Cristina Fernández made the controversial statements at FAO (Food and Agriculture Organization) headquarters in Rome where she accepted an award that was given to Argentina for being one of the countries in which malnutrition levels are below five percent.
Argentina's statistics and figures on poverty have been questioned since 2007, when the government put in close allies at the INDEC statistics bureau, which changed its methodology overnight in a move that suddenly pulled the numbers lower. The change had a direct impact on poverty calculations, which depends on three main factors: income, the basket of basic goods that the state considers necessary to be above the poverty line and, finally, the price at which they can be purchased.
INDEC's last published estimates note that 4.7% of the Argentine population (and 3.7% of households) is poor, while 1.4% of people and 1.5% of households were said to be suffering from destitution.
However the CIFRA think tank, close to the pro-government splinter of the CTA umbrella union, puts poverty at 17.8% and destitution at 4.4%, while the anti-government faction of the CGT umbrella union said poverty was near 29%, which would be equivalent to 12 million Argentines.
Last year the Argentine Catholic University (UCA), for its part, said poverty stood at 27.5% in 2013, while measurements released at that time by the Institute of Public Policy and Thought (IPyPP), drafted by former INDEC employees, suggested a walloping poverty rate of 36.5%.
There seems to be disagreement even within the government with Lower House Speaker Julián Domínguez saying earlier this year that the country's poverty rate stands at 14.9%. The figure was taken from a report by the Lower House Health and Social Development Committee, led by Kirchnerite lawmaker Andrea García. The analysis was carried out by García and Kirchnerite economist Agustín D'Atellis who said poverty has dropped 67% between 2003 and 2013, starting at 45.1% and estimated in 2014 at 14.9%.
If the Argentine president statement, below 5%, was effectively true it would mean the country has a lower poverty rate than Iceland (5.9%); Czech republic (5.91%); Denmark (6%), Finland (7.5%), Norway (7.71%) and indeed the UK (9.49%) or Switzerland (10.26), according to OECD 2011 stats.
Cristina Fernandez attended the FAO meeting representing Argentina, to receive an award for being one of the countries that managed to cut back on the "prevalence of undernourishment below (or close to) 5% since 1990."
According to FAO, undernourishment means that a person is not able to acquire enough food to meet the daily minimum dietary energy requirements, over a period of one year. In South America, Brazil, Venezuela, Chile and Uruguay are said to be below the 5% hunger threshold established by FAO.
On Sunday FAO Director-General José Graziano Silva commended the President for Argentina's "outstanding" progress in fighting hunger.
"This award for Argentina is for the role that we have played through public policy to reduce hunger," president Cristina Fernandez said.