Cristina Fernandez congratulates La Campora victory in Ushuaia
Saturday, July 4th 2015 - 06:48 UTC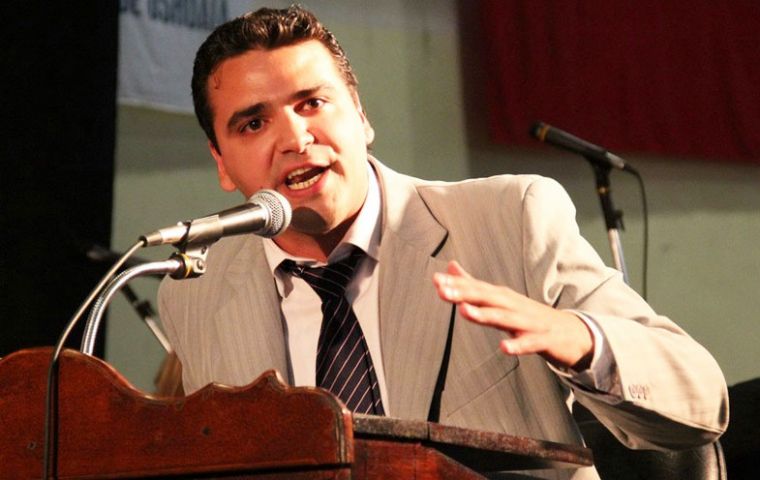 President Cristina Fernandez publicly congratulated on Friday Walter Vuoto the young elected mayor of Ushuaia, capital of Argentina's most austral province, who together with elected governor Rosana Bertone recovered Tierra del Fuego for the ruling Victory Front, a surprise victory which turns that territory and capital in Kirchnerite strongholds.
The event was during a video conference in which Cristina Fernandez announced an air link between Puerto Iguazú in the northern province of Misiones and El Calafate in the extreme south province of Santa Cruz to be served by Aerolineas Argentinas.
"I'm very happy and proud because with our grouping and mates from the Victory Front and together with Rosana Bertone we were able to recover the (Tierra del Fuego) province and after twenty years we also recovered the city of Ushuaia" Vuoto told president Cristina Fernandez.
Vuoto also mentioned that the new air link was a great challenge to keep reinforcing the Patagonia corridor and so was the role played by Aerolineas Argentinas: "nowadays 14.000 Ushuaia residents live off the tourism industry and of the 11 links, 9 are served by Aerolineas".
"Recovering our flag carrier is also a great success and clearly reflects the idea of an integrated Argentina, a political project launched by Nestor (Kirchner) in 2003 and which you señora President continue to command", underlined Vuoto.
On 28 June, Vuoto garnered 22.49% of ballots cast for mayor in Ushuaia beating Hector Stefani with 18.50% and Damián De Marcho, 15.64%. On that freezing Sunday of the 57.425 registered voters in Ushuaia, 39.756 turned out to vote.
Vuoto's victory is significant since he belongs to the youth branch of the Victory Front, identified as La Campora, headed by Cristina Fernandez' son, Maximo Kirchner, and Ushuaia became the first provincial capital in Argentina to come under control of that group.
Likewise elected governor Bertone, who obtained 49.6% of the vote in the runoff, was openly supported by the Victory Front's presidential ticket headed by Daniel Scioli, governor of Buenos Aires province. Even when the current governor Fabiana Ríos (elected in 2011) came to work closely with Cristina Fernandez, she has her own political party, and had her won candidates for governor and mayor, but they were incontrovertibly defeated.