CFK and Morales unveil a 16 meters high statue of independence heroine
Thursday, July 16th 2015 - 09:15 UTC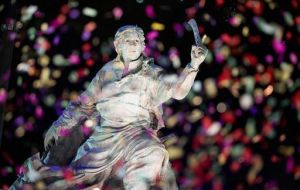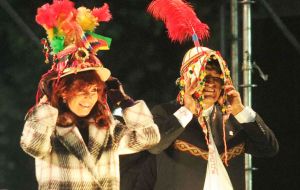 The presidents of Argentina and Bolivia have unveiled a statue of Bolivian war of independence heroine Juana Azurduy. The 25-ton, 16-meter-high statue replaces a controversial statue of Christopher Columbus that was taken down in 2013 after ninety years.
The present from Bolivia was unveiled Wednesday behind Argentina's presidential palace during an official visit by Bolivian President Evo Morales.
The Columbus statue became a political flashpoint between Argentine President Cristina Fernandez's populist government and conservative Buenos Aires Mayor Mauricio Macri when it was brought down.
Argentina's Italian community and officials in Buenos Aires said the statue belonged to the city not the federal government. But Fernandez defended her decision to replace the Italian explorer with the South American independence heroine.
The Argentine and Bolivian leaders also signed border security and trade agreements, and praised the work carried out in both countries to reduce inequality and promote social inclusion.
"The inclusion process does not only save those most vulnerable, although that is the key to that process," the Argentine leader explained next to Morales.
"Millions of people have been included as consumers and that also benefits small businesses which have been able to expand their commerce because there is a solid internal market."
Cristina Fernandez underlined that the two countries "should not just see each other as clients, but also partners, that is the key to our closer relationship and integration".
The president also thanked Morales for visiting Argentina and for donating the monument to Azurduy, and asked him to consolidate trade relations between the nation and Bolivia "so that "resources stay in the region and feed our countries".