UK ambassador in Argentina and Chubut governor workout Welsh immigration celebrations
Saturday, July 18th 2015 - 07:46 UTC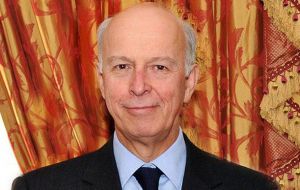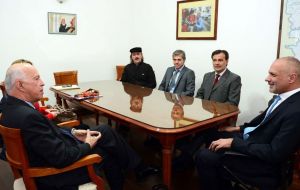 UK ambassador in Buenos Aires John Freeman met with Chubut province governor Martin Buzzi in Rawson to work out the agenda of activities scheduled for the end of the month when Wales First Minister Carwyn Jones is expected to arrive for the 150th anniversary celebration of Welsh immigration to Argentina, reports the local media, Diario Jornada.
"First Minister Jones will visit Chubut on 27/28 July. We are scheduled to meet at Government house to sign several agreements and bilateral talks. In the afternoon there will be a "Pioneer Heart" show in Puerto Madryn with the attendance of President Cristina Fernandez and in the evening a gala celebration at the Saint David Association" said governor Buzzi.
The following day, July 28, the First Minister will be present when the two flags are flown.
"It's obvious that our Welsh visitor will have a double agenda, one public with local authorities and another, simultaneous, with all the Welsh organizations in Chubut" as part of the two-day celebrations, admitted the governor.
The "Pioneer Heart" show, with the presence of Cristina Fernandez will display the meeting of the two cultures, the Welsh and the aborigines, but mainly the launching of the Patagonia pioneer spirit, "since we are a land of pioneers and the Welsh immigration was the first visible experience of that endeavor, so significant for the development of these territories", pointed out governor Buzzi.
In effect, "in Argentine history very few communities maintained and preserved a peaceful coexistence with aborigines; a true example for the world".
Ambassador Freeman said he was certain of the success of the celebration and activities, and "I'm sure Wales First Minister will feel very much at home, and it will also be a great opportunity for Chubut and Wales to celebrate the anniversary with the support from the local Welsh community".
As to the controversial Falklands/Malvinas issue, ambassador Freeman ignored questions from reporters and governor Buzzi was quick to state strongly that the issue "was not in the talks we had with the ambassador".
However Buzzi later said that Argentina has a national strategy on the issue, headed by the president, which "deserves all our support because it's a national cause but addressed by national authorities".
Buzzi then went on to praise Argentine ambassador in London, Alicia Castro's efforts in having inserted an important agenda on the issue in the UK.
Deputy governor Gustavo Mac Karthy also present at the meeting with ambassador Freeman admitted that it "could become inevitable to talk about Malvinas, but I would prefer a dialogue that leads us to the solution we all want, but the issue definitively was not addressed. We concentrated on the 150th anniversary and the request from the Welsh organizations for the celebrations, and this we want to respect and abide".