Falklands/Malvinas special session at Aladi's offices in Montevideo
Thursday, July 23rd 2015 - 05:41 UTC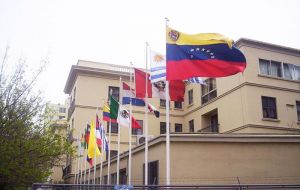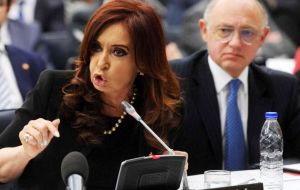 The Latin American Integration Association, Aladi, with main offices in Montevideo, will be holding on Thursday an extraordinary meeting on the Falklands/Malvinas Islands question in the framework of the recent Day of Affirmation of Argentine rights over the South Atlantic Islands (June 10), and the fiftieth anniversary of UN Assembly Resolution 2065, which called on Argentina and UK to dialogue and find a solution to the dispute.
The event is scheduled for 11:00 in the morning with Venezuelan representative Felix Rivas Alvarado presiding over the special session, who will make a brief introduction, followed by Argentina's Carlos Alvarez, Aladi's standing chair and finally the head of the Malvinas desk in the Argentine foreign ministry, Daniel Filmus. Other representatives from the 13-country members integration organization are scheduled to also address the issue.
Aladi which was founded in 1980, is made up of Argentina, Bolivia, Brazil, Chile, Colombia, Cuba, Ecuador, Mexico, Panama, Paraguay, Peru, Venezuela and Uruguay.
June 10 according to the Argentine calendar is the Day of Affirmation of Argentine Rights over the Malvinas, South Georgia and South Sandwich Islands and adjoining maritime spaces, and recalls the creation in 1829 of the Political and Military Command of the Malvinas and Cape Horn adjoining spaces by the government of the province of Buenos Aires.
The other celebration refers to December 1965, half century since the approval of UN General Assembly resolution 2065 calling on Argentina and the United Kingdom to dialogue on the issue.
Following the speeches a plaque will be unveiled to remember the event and one of Aladi's rooms will be named Islas Malvinas.
Filmus is also scheduled to meet with the Uruguayan branch of the Malvinas Forum, which is headed by Luis Rosadilla, a former defense minister and Senator Ruben Martínez Huelmo, among other members.
The event is part of president Cristina Fernandez aggressive international campaign to claim the Falkland Islands in all possible forums. Argentine policy on the issue calls Falkland Islanders 'squatters' and foreign minister Hector Timerman argues that the Falklands' people as such do not exist since it was implanted by the UK.
Likewise Cristina Fernandez points out that the invasion of the Falkland Islands by Argentine forces in April 1982, in which over 900 military and three civilians were killed, was a decision by a corrupt, bloody military dictatorship, and has repeatedly pledged that Argentina will insist only with peaceful means.