Mother and aunt at the launching of Maximo Kirchner's campaign for Congress
Saturday, July 25th 2015 - 05:55 UTC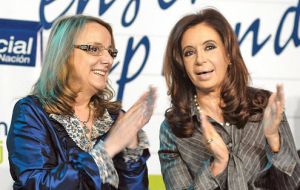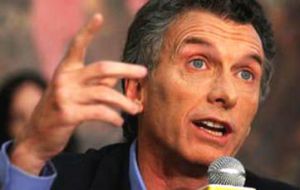 President Cristina Fernandez underlined the achievements of her government which, she said, have set the foundations of 'a bright future ahead for Argentina', and openly sponsored the electoral aspirations of Kirchner family members, during a political rally held in Santa Cruz province, from where the powerful presidential couple that has dominated Argentine politics for the last twelve years emerged in 2002/03.
Cristina Fernandez was joined at the Rio Gallegos event by her son Maximo Kirchner who is running for Congress, and her sister in law, Alicia Kirchner, Santa Cruz governor candidate. The family display recalled that Santa Cruz is the Kirchner's political bastion. In 1987 the late Nestor Kirchner was first elected mayor of Rio Gallegos and from then onwards did not stop until he reached Casa Rosada, or Government House in Buenos Aires.
Supposedly Maximo is expected to follow on the steps of his successful late father, but instead of taking off with a provincial post he is competing to represent Santa Cruz as a lawmaker in Buenos Aires, with obviously the whole support of his mother.
Under the slogan "Always Santa Cruz", the electoral campaign of Maximo recalls the figure of his late father Nestor with the inclusion of fragments from his speeches in the radio and television spots.
Máximo who figures as leader of the youth group 'La Campora' the strongest in Cristina Fernandez 'Victory Front', had so far kept a low profile until a couple of weeks ago when he started to tour Santa Cruz in search of support for his candidacy.
He has also been involved in main league politics in Buenos Aires criticizing the Argentine capital's mayor Mauricio Macri, who is running for president next October and is the main opposition candidate to the handpicked ticket that is expected to continue Cristina Fernandez' legacy.
At the rally Maximo was also supported by his aunt, Alicia Kirchner, currently Social Development minister and who will be disputing the governorship of Santa Cruz.
"I don't feel comfortable in Santa Cruz, but happy when I go around each city in the province," he said adding the mainstays of his campaign were to be close to the people and visit the provincial localities, not uploading pictures to social media or appearing in TV spots hugging kids or the elderly
Meanwhile his mother took time to review some of the successful policies put forward during Kirchnerism and ironically praised Mayor and presidential hopeful Macri for changing his political platform and toning down his criticisms.
"Some have discussed the nationalization of YPF, of the AFJP pensions system, but now, even the opposition thinks we are right" the President said during her nationally broadcasted speech from Río Gallegos.
Last Sunday, opposition leader Macri toned down his political platform, praising some of the policies defended by Kirchnerism. He later said he did not change his speech much, but added he has "evolved" during these years as regards his political thinking.
The head of state ironically pointed that out. "I am glad they changed their mind, but think what would have happened if they hadn't opposed us just for opposing us, how many more thing we might have done".
The President then said Argentina's economy is growing, citing reports by the Pew Research Institute that stated the middle class has doubled in the country in the last decade, and reports by FIEL and INDEC that indicate construction rates have also grown.
"They may want to scare us with occasional (and in reality, inexistent) bank runs, but the country is growing. We have a bright future ahead of us," Ms Kirchner said.
CFK delivered her address from the "Lucho Fernández" municipal gymnasium, inaugurated by late President Kirchner when he was Mayor of Río Gallegos. Economy minister Axel Kicillof and the Executive's Legal and Technical Secretary, and vice-president hopeful Carlos Zannini also attended the rally in the extreme south of Argentina.