Falklands' claim and sea access for Bolivia in the same package for Evo Morales
Friday, August 7th 2015 - 06:19 UTC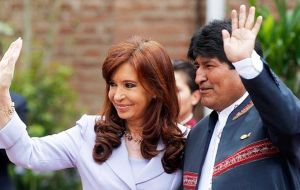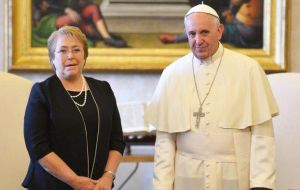 The Argentine government should support with 'determination' Bolivia's sea outlet claim to Chile, because if successful it will be so much easier for Argentina to recover the Falklands/Malvinas Islands, said Bolivian president Evo Morales in an interview.
"I'm saying that the Argentine government must support with determination this maritime demand of ours, because this way it will be much easier for Argentina to recover the Malvinas", said Morales to the Santa Cruz daily, El Deber.
The Bolivian leader talked about the sovereignty conflict in the South Atlantic Islands between Argentina and the UK when he was asked about visiting Pope Francis reference to the century old claim of Bolivia to Chile for access to the Pacific Ocean, an outlet which was lost as a consequence of the 1879 war.
In effect, following several years of armed conflict of Bolivia and Peru against Chile, (the Pacific War), the now land-locked country lost 200 kilometers of coast line and 120.000 square kilometers of territory.
The government of president Morales presented in 2013 a demand before the International Court of Justice in The Hague hoping for a decision that forces Chile to negotiate with Bolivia the sea outlet claim.
The bilateral controversy was mentioned by Pope Francis at different moments during his recent Latin American tour of Ecuador, Bolivia and Paraguay last July.
Furthermore while in Bolivia, Francis called for a "frank and open" dialogue on the issue and on his return flight to Rome he said it was 'unfair' that Bolivia should be demanding access to the sea, he added that a 'papal mediation' would be the 'last resource'.
Morales said he felt it was "a great advance" to inform the pope on the maritime demand, with whom he also talked about the Argentine claim over the Falklands/Malvinas Islands.
According to the Bolivian president, Francis position and comments on the Bolivian demand caused "quite a rash" in Chile, because previous to the pope's trip "in Santiago they were saying that the pope would not address the sea outlet issue".
"(Chilean president Michelle) Bachelet travelled to the Vatican and came back very disappointed because we informed the pope in depth of the situation" said Morales in reference to the Chilean president' trip and meeting with the pope in the Vatican last June.
This week Morales suggested that the pope should act as a guarantee of the resumption of full diplomatic relations between Bolivia and Chile, with the commitment that a solution to the sea access demand from Bolivia can be reached at the most in five years.
Chile replied that it was ready to resume full diplomatic relations (cut off back in 1979) 'any moment', but with no conditions and insisted that the sea access issue was a "bilateral question".