For third consecutive day China weakens the Yuan against the US dollar
Thursday, August 13th 2015 - 06:17 UTC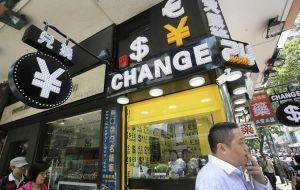 The People's Bank of China (PBoC) weakened the Yuan against the dollar for a third consecutive day on Thursday, following reports the central bank intervened to stem the currency's sharp slide late on Wednesday. The PBoC set the Yuan fixing at 6.4010, compared to the previous day's close of 6.3870, sending the currency 0.7% lower to 6.43 per dollar in early trade.
Thursday's fix was 1.1% below Wednesday's fix of 6.3306, a pause from the aggressive weaker fixings in recent days: On Tuesday the fix weakened 1.9% and then 1.6% on Wednesday.
Traders said Thursday's slower pace of devaluation made sense following reports by the Wall Street Journal that the central bank asked state-owned lenders to sell dollars on its behalf in the last 15 minutes of US trading on Wednesday, which caused the Yuan to rally 1% against the greenback after falling to fresh four-year lows in intraday trade.
Earlier on Wednesday, the PBoC warned it was not pursuing steady depreciation in response to allegations that Beijing was manipulating the currency to boost exports. The central bank has yet to confirm the supportive action, but it is broadly being treated as fact by market insiders.
Wednesday's intervention signaled the central bank may have gotten cold feet about its commitment to loosen the reins on the exchange rate. Experts say the PBoC acted to prevent the Yuan from falling too rapidly, a consequence that was widely flagged when the PBoC first announced a more market-oriented Yuan just 24 hours earlier.
The PBoC devalued the currency by about 2% on Tuesday and said it would set the spot rate according to the previous day's closing central parity rate, effectively allowing the currency to trade freely and inviting near-term currency weakness. Wednesday's poor industrial production data also increased pressure for even more depreciation, National Australia Bank economists warned in a report.