US dollar in Argentina reaches its highest mark so far this year: 15.10 Pesos
Saturday, August 15th 2015 - 08:14 UTC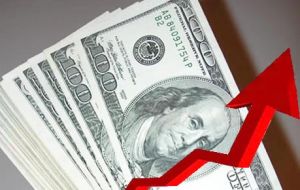 Argentina's foreign exchange market was quite active on Friday and the so called 'blue' or 'parallel' dollar hit the highest mark in the year at 15.10 Pesos. Meanwhile the official US dollar ended half a cent higher at 9.255 Pesos in banks and foreign exchange agencies.
In addition, the stock exchange rate decreased one cent to 13.25 pesos and the blue chip swap rate increased one cent to 13.44 pesos. This way, the gap between the "blue" and the official rate stands at 63.2%.
Several factors are contributing to the volatility of the foreign exchange market in Argentina, both domestically and overseas. At home the recent primaries with no clear winner and possible alliances open to different situations have become a stress for the political system. Besides the incompetence and political bickering regarding the floods in Buenos Aires province are taking their toll.
Likewise Argentines ever so suspicious of their own currency immediately take refuge in the US dollar to protect their liquid assets, and with October's election a couple of months away, it should not come as a surprise.
Overseas Argentina's main trade associates are going through difficult or uncertain situations. China has devalued its currency, making Argentine exports dearer, while Brazil not only is in recession but faces a serious political scenario that could end with the impeachment of elected president Dilma Rousseff.
With its ongoing litigation with hedge funds, and limited access to money markets, Argentina could face another foreign currency crunch if, as forecasted before the end of the year, the US Federal Reserve decides to end its freeze on interest rate hikes.
On Friday the Argentine central bank sold 85 million dollars in an attempt to face the demand for greenbacks and compensate the decreasing agro export sales.
According to the latest estimates the central bank reserves fell 59m on Friday and now stand at 33.627bn dollars. Besides next October Argentina has to repay approximately 3.5bn dollars in maturing bonds.