Scotland, Canada, Chile and Norway committed to a sustainable aquaculture industry
Wednesday, August 19th 2015 - 06:30 UTC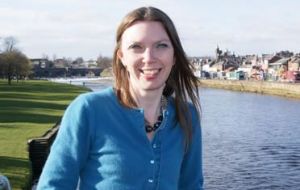 Scotland, Canada, Chile and Norway will work together to promote and grow the aquaculture industry sustainably. The four countries are the world's main exporters of farmed salmon.
A joint statement signed by Scottish Environment Minister Aileen McLeod with Elisabeth Aspaker, Norwegian Minister of Fisheries and Co-ordination of Nordic Affairs; Raul Sunico, Chilean Undersecretary for Fisheries and Aquaculture and Matthew King, Canadian Deputy Minister, Fisheries and Oceans set out the long-term development of the aquaculture industry by:
Promoting the sustainable development of aquaculture through effective engagement of the participants' regulatory administrations and agencies; Encouraging bilateral and multilateral cooperation at administrative, and where possible, political levels; Exchanging information, knowledge, and experiences relevant to the various aspects of aquaculture management on a regular basis; and Supporting the mutual recognition and adoption of effective management tools to further promote sustainable aquaculture development.
All four ministers are strongly committed to growing the aquaculture industry in an environmentally, socially and economically sustainable way.
Following the signing of the joint statement, Dr McLeod said: "I am delighted to be here at Aqua Nor strengthening our international ties with Norway, Canada and Chile, recognizing the worldwide importance of aquaculture growth delivered through enhanced co-operation and joint working.
"This joint statement is good news for the future sustainable growth and development of Scotland's aquaculture sector, which is worth over GBP 1.75 billion to our economy annually and supports 8,000 jobs across the supply chain and supports international goals on food security, economic growth and environmental sustainability," McLeod pointed out.
"I look forward to sharing the successes and learning from the challenges that all our countries have experienced as we look to grow sustainably. This will also be an opportunity to showcase our thriving aquaculture and service sector and our plans to grow the industry – through innovation and new technologies - to a turnover of over GBP 2 billion to the Scottish economy every year and support 10,000 jobs annually by 2020," McLeod concluded. (FIS).-