Tierra del Fuego inflation in July, 1,5% and 28.2% in the last twelve months
Monday, August 24th 2015 - 10:24 UTC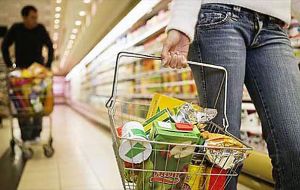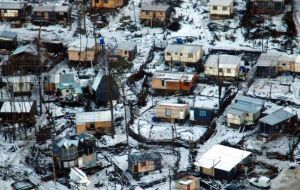 The Consumer Price Index in Argentina's Tierra del Fuego province reached 1.5% in July and 28.2% in the last twelve months, according to the province's Stats and Census office.
In the first seven months of the year, inflation climbed 14.8%: 2.8% in January; 1.5%, February; 1.7%, March; 2.3% April; 2.7%, May; 1.6%, June; 1.5%, July, all indexes far above the official Indec stats office controlled by the administration of president Cristina Fernandez.
In effect, the provincial stats indicate that overall inflation in Tierra del Fuego was 82.7% higher than the Argentina national Indec rate so far this year and 90.5% if compared to the last twelve months to July. For Cristina Fernandez Indec, July CPI was 1.3%, 8.1% in seven months this year and 14.8% in the last twelve months.
During July in Tierra del Fuego, Goods and Services climbed 4.4%, followed by clothing and footwear, 1.9%; transport, communications and leisure, 1.8%; Food and beverage, 1.6% and Healthcare, 1.5%. However Housing, Water and Power remained unchanged while home maintenance and equipment, and education were down 0.1%.
Following on the data in the first seven months of the year, the item which experienced the highest average increase was Goods and Services, with 22.6%, followed by Transport and Communications, 18.1%; Education, 17.9%; Leisure, 16.4%; Healthcare, 15.2%; Home maintenance and equipment, 14.1%; Housing, water, power, clothing and footwear, 10.1% while Food and beverage was in the range of 9.8%.
Regarding the basic food basket (CBA) and the total basic basket, (CBT) which in Argentina Indec uses to measure indigence and poverty, in the first case for an adult the sum was 1.454 Pesos and for a family of four (a couple and two children) it was 4.492 Pesos, which is 54 Pesos higher than in June; 325 Pesos more than in January and 853 Pesos over the same month a year ago.
As to CBT which refers to poverty, an adult needed 5.329 Pesos and a family of four, 16.466 Pesos. This represents an increase of 196 Pesos over June; 1.190 Pesos over January and 3.128 Pesos compared to July last year. The official Peso/Dollar exchange rate stands at 9,15 while the 'blue' or parallel, over 15 Pesos.
CBA and CBT in July experienced a 1.2% increase over June and 23.4% in the last twelve months.