Falklands' MLAs confident they can 'educate' UK politicians who have swallowed the Argentine story
Saturday, August 29th 2015 - 06:33 UTC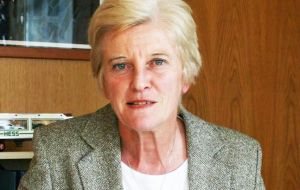 Falkland Islands elected lawmakers believe that the election of MP Jeremy Corbyn as leader of Labor would be harmful for that party, but anyhow they are confident that as happened before, they can 'educate' detractors who argue that Britain and Argentina should negotiate over the Falklands.
During last Monday's public meeting in Stanley a member of the public asked if members of the Legislative Assembly, MLAs, were nervous about a possible leadership by candidate Jeremy Corbyn, and his 'cohorts' opinion on the Falklands issue and dialogue.
MLA Gavin Short said: "I think his view though is a very small minority. I also think that if he is successful in the Labor leadership election he is going to do that party an awful disservice ...we will of course do our best to educate him. We will robustly attempt to educate him."
On the subject of educating, "detractors," MLA Roger Edwards said he and MLA Jan Cheek would be heading for the Party Conferences, which take place late September early October "to continue that education. We have to meet with these people and put them right.. give them the truth rather than the perception."
MLA Cheek said she would also be attending an event at the Scottish Parliament.
"Certainly among delegates there's not a great difference between the approach taken by Conservative and Labor people that we meet. The ones that needed the most persuading I found in recent years are the very young Liberal Democrats who had swallowed the Argentine story hook, line and sinker", said MLA Jan Cheek.
"But they are on the whole intelligent young people and when given the facts they go away and think again."
MLA Phyl Rendell said it was a good point and, "we should take it very seriously". (Penguin News).