Colombia was one vote short in OAS to address the border crisis with Venezuela
Thursday, September 3rd 2015 - 10:17 UTC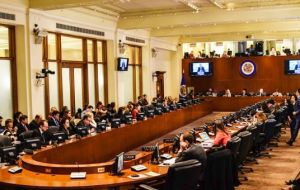 Colombia on Monday was one vote short at the Organization of American States to summon a meeting of foreign ministers over the ongoing border crisis with Venezuela. Bogotá had requested the high-level meeting up as the country is seeking international support for an ongoing diplomatic crisis with its socialist neighbor.
Venezuela, which deported more than 1,500 Colombians last week, an action that spurred the spontaneous displacement of more than 8,000 other Colombians who feared persecution and military violence.
In order to call a summit of foreign ministers, Colombia needed 18 votes. It received 17.
Five countries voted against the request, including Venezuela and its regional allies Bolivia, Nicaragua and Ecuador. Eleven countries, including giants Brazil and Argentina abstained from voting.
Panama surprised its neighbor Colombia by abstaining from the vote, effectively ending the possibility of a summit in which Venezuela could be diplomatically pressured to change its recent hostile attitude towards Colombia and its people.
Instead, Panama offered to mediate between the presidents of the two neighboring countries, Venezuela's Nicolas Maduro and Colombia's Juan Manuel Santos.
"We reached a majority, but not enough. We are grateful to the 17 countries who welcomed our proposal. We respect those who have other criteria" to call a summit, said Colombia's ambassador to the OAS, Andres Gonzalez.
While facing a major humanitarian crisis on the Colombian side of the border, president Juan Manuel Santos and his foreign minister Maria Angela Holguin will have to wait until September 8 to be able to meet with either Maduro or Venezuelan Foreign Minister Delcy Rodriguez.
In spite of the crisis, the two left for Asia to visit Vietnam and China, two allies of the populist Venezuelan government that has been hit by a major economic crisis due to dropping commodity prices, and is in desperate need of financial aid.
Holguin said in a response to the OAS vote that Colombia might take the border crisis to the United Nations, claiming "this has been of such outrage for Colombia that it cannot simply leave it with the negative vote over a foreign ministers meeting."