Lula da Silva campaigns for Scioli and is full of praise for Cristina Fernandez and the 'K' model
Thursday, September 10th 2015 - 08:33 UTC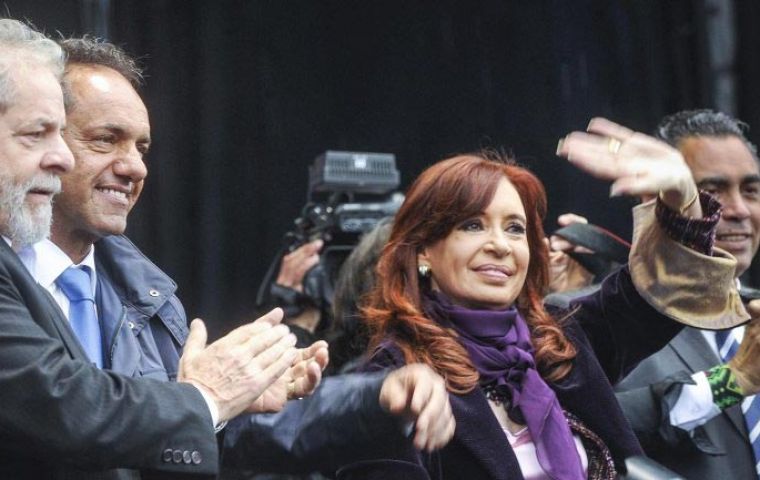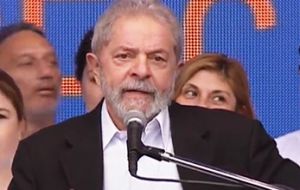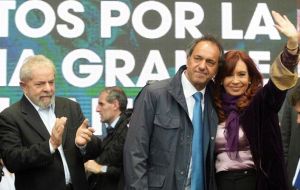 Brazil's popular but scandal-weary former leader Lula da Silva endorsed Argentina's ruling party presidential candidate on Wednesday, identifying Daniel Scioli's credentials with the political left, and hoping the current project "that began in 2003 is re-elected". The former president was also full of praise for president Cristina Fernandez.
Lula da Silva joined the governor of the province of Buenos Aires and president Cristina Fernández during a rally in the provincial city of José C. Paz where they inaugurated a medical center that provides first care health services to local residents.
The Brazilian leader said Cristina Fernández "is reaching the end of her presidency as a heroine and victor," regretting Nestor Kirchner "was not here to see her with pride."
"I hope the project that Nestor Kirchner began to build in 2003 can be concluded and re-elected again, a project that transformed Argentina," Lula da Silva said also calling to strengthen Argentina-Brazil ties.
"The only thing that separates us is whether Maradona is better than Pelé, or if Messi is better than Neymar."
Scioli, governor of Buenos Aires, handpicked by Cristina Fernandez to succeed her usually presents himself as more moderate than the lady which makes him more palatable to the business and farming communities. However Wednesday was an exception when he appeared at a rally with Cristina Fernandez and Lula da Silva.
"This is a state that is present in places where problems cannot be resolved by the markets," Scioli said in introducing Lula da Silva, whose image has been dented this year by scandals involving his party.
Cristina Fernandez, preceded as president by her late husband Nestor Kirchner, is part of a populist Latin American bloc once led by Lula da Silva and the late Hugo Chavez of Venezuela. Scioli normally strikes a less ideological tone while campaigning.
Lula da Silva is credited with strengthening Brazil's social safety net while allowing the country's markets to flourish during his 2003 to 2011 administrations. Economic struggles under his hand-picked successor Dilma Rousseff have dulled some of Lula da Silva's shine, but he remains the country's most influential politician.
Even so, a corruption probe into Brazil's state-run oil company Petrobras is straining Lula's Workers' Party as some of its leaders have been charged with corruption, including the former president's closest and most reliable aides.
Scioli promises to govern in a way reminiscent of Lula's glory days. The governor has defended Fernandez's interventionist economic policies and promised to continue her most popular welfare programs while he advocates gradual reforms toward more open markets.
Scioli is first in the opinion polls versus opposition leader Mauricio Macri, the business-friendly mayor of Buenos Aires. Scioli gives few details about his platform, but his aides use words like "flexibility" and "pragmatism" to say how his policies would differ from Cristina Fernandez.
The lady is barred from seeking a third consecutive term in the Oct. 25 election. If on election day none of the candidates obtains a 45% ballot-lead or 40% plus ten-points difference over the runner up, a runoff is scheduled for a month later. Cristina Fernandez steps down 10 December.