Chile marks 9/11 bloody coup and Bachelet calls for truth and justice
Saturday, September 12th 2015 - 11:56 UTC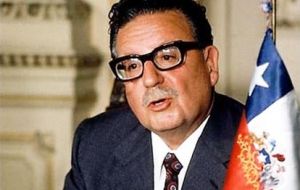 Speaking at a ceremony marking the 42nd anniversary of Chile's military coup, President Michelle Bachelet said on Friday that the truth must still be told and justice still needs to be served for the thousands of victims of the country's dictatorship.
The Sept. 11, 1973 coup ousted democratically elected President Salvador Allende and launched the 17-year dictatorship. That day, fighter jets attacked the presidential palace, and tanks and soldiers surrounded the building as it burst into flames. Allende committed suicide rather than surrender to coup plotters led by Gen. Augusto Pinochet.
In all, 40,018 people were killed, tortured or imprisoned for political reasons. The government estimates 3,095 were killed during Pinochet's dictatorship, including about 1,200 who were forcibly disappeared.
"Here are still loved ones whose whereabouts we still don't know," said Bachelet, whose father, Air Force Gen. Alberto Bachelet, died in 1974 following torture in prison for opposing the coup.
"We need to tear down the walls of silence that block us from advancing ... I will make sure justice is the same for all. It's a personal commitment," said Bachelet, who was held herself and forced into exile under the military regime.
The coup anniversary is often marked by violence. This year, vandals set up flaming barricades overnight, and police responded with water cannons and tear gas. At least one police officer was injured by a bullet that grazed an ankle. But officials say this year's incidents have been less violent than past anniversaries.