Quake in Chile leaves twelve dead; a million evacuated to escape high scale tsunami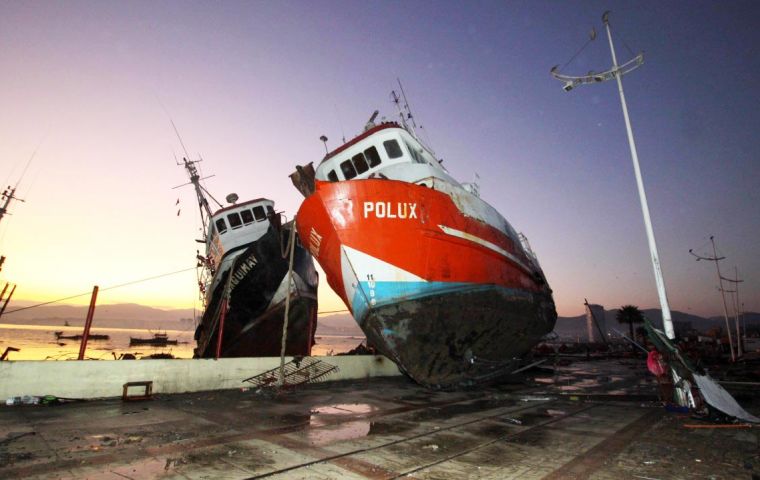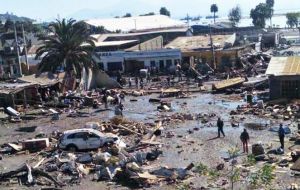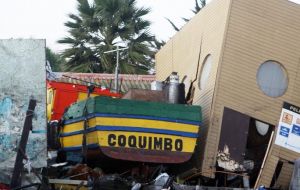 Coastal cities in north-central Chile suffered extensive damage from the powerful earthquake that struck the region on Wednesday night, according to aerial images released on Thursday by the police.
Authorities said on Thursday afternoon that at least 12 people were known to have died as a result of the magnitude 8.3 quake, which shook the ground for three minutes and was felt in most of the territory and beyond in neighboring countries as far as Brazil.
More than one million people were evacuated from coastal regions to escape the tsunami produced by the quake, which was centered a few miles offshore. Primary assessment of damages has been estimated at hundreds of millions of dollars.
In Coquimbo, a port 450 kilometers north of Santiago, fishing vessels and shipping containers could be seen strewn around the city's downtown area. Wrecked houses and businesses were visible in images of other affected seaside towns and cities. Significant flooding was also reported in Illapel, the town around 285 kilometers north of Santiago that was closest to the epicenter.
Some officials expressed relief that the death toll was not higher, drawing uneasy comparisons to a magnitude 8.8 earthquake in 2010 that left 525 people dead, 81 of them after a tsunami struck with no public warning from the government. Several officials are being prosecuted on charges that they failed to properly assess the tsunami risk, and the government has adopted new security procedures and strengthened its emergency response system.
In Paihuano, another town in the Coquimbo region, the earthquake on Wednesday "generated a lot of fright," but was "fortunately not very harmful in this sector," the mayor, Lorenzo Torres, told reporters. He added that he expected electricity to be restored to residents before Friday.
President Michelle Bachelet said on Thursday morning that about 100,000 families lacked electricity. She credited the country's relatively stringent building codes and coastal communities' swift reaction to the earthquake with saving many lives.
She declared a state of emergency in the Coquimbo region, where 70,000 homes were still without power. The region will be under the control of Gen. Schafik Nazal, commander in chief of the Army's Second Motorized Division.
Even so, Some Chileans said that the government needed to do more to build public trust and confidence in its response to earthquakes, which are common in the country. Confusing and contradictory official statements after the 2010 earthquake left many people in the danger zone when the tsunami struck, and four government officials were later charged with involuntary manslaughter.
Ms. Bachelet visited the Coquimbo region on Thursday and said that emergency response teams were assessing the damage.
In 2010, critics accused her of being too slow to impose a state of emergency and deploy troops when looting broke out in the disaster zone, but this time there have been no reports of disorder.
"People seek higher ground automatically, because the 2010 quake showed them the government and institutions were not properly prepared," said Marcelo Lagos, director of the Tsunami Research Laboratory at the Catholic University in Santiago. "After that experience, people no longer believe in the authorities. This is an opportunity for Chile's institutions and the president herself to validate themselves in front of emergencies."