"Let the private sector make business with Falkland/Malvinas, a blockade in the Americas is unacceptable" said lawmaker Trobo
Friday, September 25th 2015 - 05:59 UTC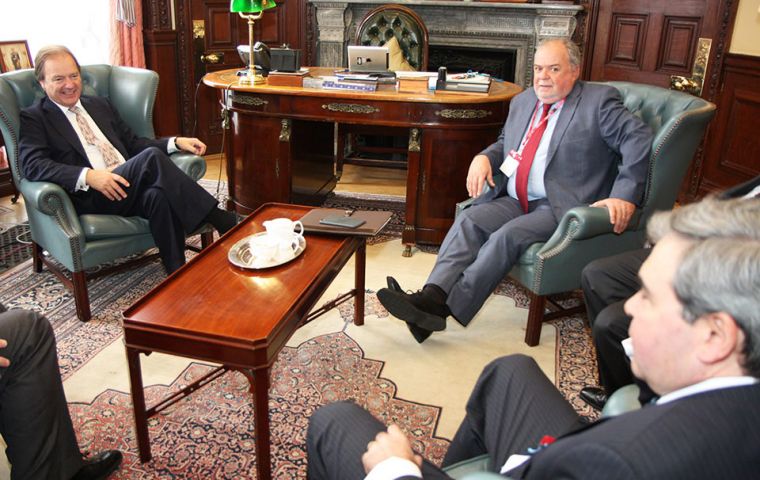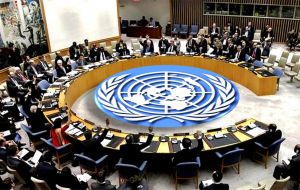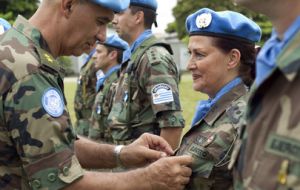 Uruguayan lawmaker Jaime Trobo said that a blockade in the Americas was 'unacceptable' and called for closer links between the Falkland/Malvinas Islands and the continent, urging the private sector to take advantage of the business opportunities in trade and services.
Trobo, a member of Uruguay's Lower House International Affairs Committee was in London this week and met for over an hour with Foreign Office minister for Latin American affairs Hugo Swire, with whom they addressed bilateral relations, Mercosur, Uruguay's coming position in the UN Security Council, UN peace operations and the Falklands/Malvinas.
"Let the private sector make business and develop social links with the Malvinas, let them advance in education, culture, healthcare contacts and investments, notwithstanding Uruguay's clear position in support of the Argentine claim over the Malvinas", said lawmaker Trobo.
"I think there is much to be done by the private sector in this part of the world, I'm thinking of trade but also of the other areas which bring people closer, a blockade in the Americas is unacceptable", underlined Trobo, in clear reference to Argentina's attitude towards the Islands and its people.
The meeting with Minister Swire also addressed UK/Uruguay bilateral relations, mainly the need to stimulate trade, to promote and protect investment, technical and scientific cooperation in agriculture, Antarctica and fisheries, and a joint effort to help achieve a successful negotiation round between Mercosur and the European Union for an ambitious trade and cooperation agreement.
Also attending the meeting were Uruguay's ambassador in the UK, Fernando Lopez Fabregat and UK ambassador in Montevideo Ben Lyster-Binns who travelled to London for the meeting.
Minister Swire expressed UK's support for Uruguay's integration as a non permanent member of the UN Security Council as of next year, and Trobo expressed Uruguay's interest in presiding the UN Peace Missions area. Uruguay is the main contributor per capita of military personnel for UN peace missions.
"In Uruguay we are proud of our people in the peace missions; they have acquired great experience. The military as well as civilian staff have long been involved and have much to cooperate and occupying such a relevant position in the Security Council would be very significant", said the Uruguayan lawmaker.
As to business and investments, particularly attracting UK companies, Trobo pointed out it was essential to boost links, since following on their head offices instructions, "BP and Royal Sun Alliance have decided to leave Uruguay".