UN highest court agrees to take the Chile/Bolivia dispute over a sea outlet
Friday, September 25th 2015 - 05:15 UTC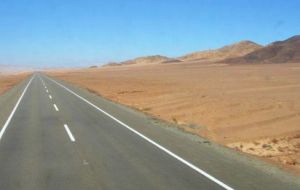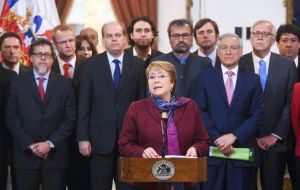 The UN's highest court on Thursday agreed to take up a century-old dispute between Chile and Bolivia, saying it could rule in the case as La Paz seeks to regain access to the Pacific. The Hague-based International Court of Justice (ICJ), which oversees disputes between countries, said it "has jurisdiction... to entertain the application filed by Bolivia."
A hearing dealing with the substance of the case however is not expected to open for several months.
Bolivia -- South America's poorest country -- became landlocked after losing a four-year war against Chile at the end of the 19th century, forfeiting territory and its access to the sea. The two countries have had only limited diplomatic relations since 1978.
After a number of fruitless negotiations with Santiago over the issue, La Paz lodged a complaint to the ICJ in April 2013.
Bolivia wants the ICJ to order Santiago to negotiate "in good faith" to restore its access to the Pacific via the Atacama -- the world's driest non-polar desert. But La Paz has not specifically asked the court to rule directly on whether it has a right to access.
Santiago dismissed the case, saying the ICJ, set up in 1946 did not have jurisdiction to rule in the matter.
Chilean President Michelle Bachelet said Bolivia "had not won anything" with Thursday's ruling. The decision "does not affect our territorial integrity," she said, adding the "only thing the court has so far decided is that is the apt tribunal to hear Bolivia's request, without yet making any determination about the case."
Chile says its territorial sovereignty was defined by treaties signed in 1904 and 1948 which prevent an international court from interfering in the matter and that today it was still governed by these treaties.
However, the treaties do not mention "Chile's alleged obligation to negotiate Bolivia's access" to the sea and therefore "Chile's objection to jurisdiction... must accordingly be dismissed," ICJ judge Ronny Abraham said.
Bolivia will also be encouraged by a judgment by the ICJ in January 2014 which gave Peru some of the maritime territory that had been under Chile's control since the 19th century war.
Bolivian President Evo Morales on Thursday urged Santiago to open negotiations on the issue on learning of the court's decision.
"We are a peaceful country, and I would like to ...call on the government of Chile to accompany this process through dialogue," Morales said from his official residence in La Paz.