Corbyn's Falklands 'negotiable' approach causes dissent among Labour
Tuesday, September 29th 2015 - 06:19 UTC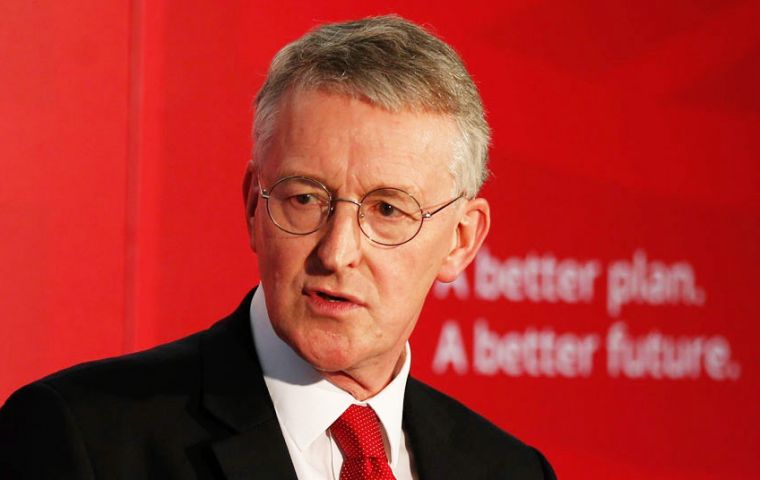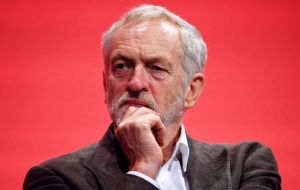 Labour leader Jeremy Corbyn statement that the Falkland Islands are 'negotiable', a position he has maintained since he was first elected to Parliament, not only triggered immediate reaction from veterans and Falkland Islanders when he was chosen earlier this month: in effect, senior members from the party, even those within his shadow cabinet openly express their disapproval of his views, according to UK media reports.
Speaking at a Labour conference fringe event, dynastic member of parliament Hilary Benn asserted his senior position within the party to override Corbyn's position.
Answering questions at a reception held by the government of Gibraltar, Benn said of the Falklands' question: "I am the shadow foreign secretary… as far as I'm concerned, we believe in self determination for the Falkland Islands".
In a further embarrassment for Corbyn, veteran MP and former home secretary Alan Johnson also cast doubts on his leader's views on the Falklands.
Speaking at a launch event for the party 'Yes to EU' campaign during the weekend, influential MP Johnson repeated Benn's take when asked about Corbyn's remarks over the Falklands.
Talking over a glass of wine following his speech at the event praising the EU and confirming leftist union USDAW (Union of Shop, Distributive and Allied Worker) would be part funding the campaign, he said: "I am fully supportive of self determination… is it their decision to make".
While Corbyn advocates a 'new politics' where dissent is the norm, the status of the Falkland Islands is all but a settled issue in British politics, and can be extremely emotive.
Hours after his victory was announced, Falkland Islanders took to Twitter to post Corbyn a "quick reminder: We're a British Overseas Territory. Don't even think about it. Cheers." The message has been retweeted thousands of times.