Plenty of Cristina's friends referred to the Malvinas claim at the UN
Wednesday, September 30th 2015 - 06:38 UTC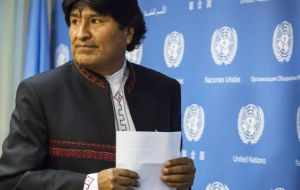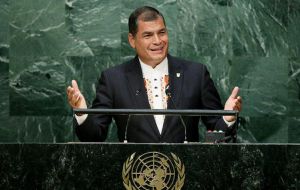 Although president Cristina Fernandez, to the surprise of many, did not mention a word about Argentina's claim over the Falkland Islands, particularly since this was her last address to the UN General Assembly, Minister Hector Timerman said that nobody could doubt the president's commitment to the Malvinas question, and there were plenty of mentions to the issue from allied countries.
"If the president did not address the issue it was because of a lack of time; each president has a limited time at the UN General Assembly and at this moment the president decided to give priority to other matters, but nobody can doubt her commitment to the Malvinas cause", said foreign minister Timerman.
"It's obvious that in a limited span of time the president can't address all issues and she had priorities", added Timerman who emphasized on the controversy with the United States over the alleged 'protection' of top spy Jaime Stiuso who apparently is living in the US.
Timerman said that "for some reason they are protecting Stiuso, who has been summoned by Argentine prosecutors and there is an Interpol blue warning on him, He's been in the US longer than a normal tourist visa".
However even when the Argentine leader concentrated her speech at the UN on the speculative or 'vulture' funds, Iran, the AMIA case and the Pope's triumphal visit, which gave her no time to address the Malvinas claim, a few friends did so.
Cuban leader Raul Castro in his speech to the General Assembly pledged solidarity with Venezuela, Ecuador and Brazil, also expressed strong support for Argentina's sovereignty rights over the disputed Malvinas Islands.
Another good friend of the Kirchners, Venezuela's Nicolás Maduro also called for dialogue between the United Kingdom and Argentina on the Falklands/Malvinas claim.
Closer to Argentina, Bolivia's Evo Morales said that the Malvinas Islands are "Argentina and Latin American" and must be returned to Argentina, the same way "we demand that the US returns Guantanamo to Cuba and lifts the economic blockade".
Ecuador's Rafael Correa pointed out in his speech that it was time to end the 'neo-colonialism' situation in the South Atlantic where Britain is 'occupying the Argentine territory of the Malvinas Islands'.
And in Buenos Aires, Beijing's ambassador Yang Wanming underlined the priority China gives to developing long term relations with Argentina, strategic links and "supporting the Argentine claim referred to sovereignty over the Malvinas Islands".