Argentine September inflation 1.92% and 25.91% in last twelve months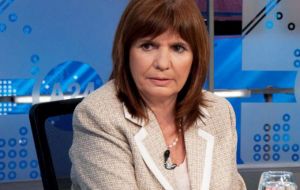 September inflation in Argentina was 1,92% and reached 25.91% in the last twelve months according to the monthly report from opposition members of Congress, which is based on the average of the country's leading private consultants. Later this week the official Indec rate is expected to be announced, systematically lower than that of the so called Congress index.
"We believe we must continue to provide the average of private consultants which can act as a reference because the official inflation rate, supplied by the much questioned Indec is 'absurd'", said opposition lawmaker Patricia Bullrich.
"It seems they get really nervous when we release the monthly inflation index", said Adolfo Sturzenegger, an economist and lawmaker who has been regularly criticized by Economy minister Axel Kicillof and his deputy Emmanuel Alvarez Agis. He added "Indec also distorts unemployment with data manipulation that does not show a true picture of employment and available jobs".
In related news the respected Latin-American economic research foundation, FIEL, said that an average family in the City of Buenos Aires needs to make 6.636 Pesos per month (or 737 or 442 US dollars according to the exchange rate, official or parallel) to remain above the poverty line. The indigence line for an average family is 3.592 Pesos (399 or 240 dollars according to the exchange rate)
FIEL reported that during September the cost of the Basic Food Basket in Buenos Aires City per adult which determines indigence line, was 1.163 Pesos (129 or 77 dollars) while for the Total Basic Basket which establishes poverty, was 2.156 Pesos (239 and 144 dollars).
"Compared to a year ago, the poverty line demands an additional 1.269 Pesos per month (141 and 85 dollars)", indicated the FIEL report adding that the Basic Food Basket was up 0.9% during September and the Total Basic Basket, 1.3%.
This means that in the last twelve months the Basic Food Basket increased 21.9% and the Total Basic Basket, 23.7%.