The defense of the Falklands must take centre stage in Anglo-Chinese relations
Wednesday, October 28th 2015 - 08:41 UTC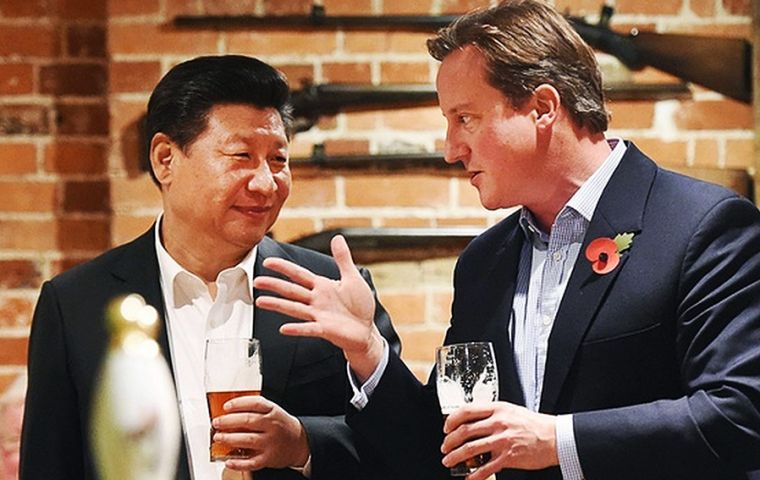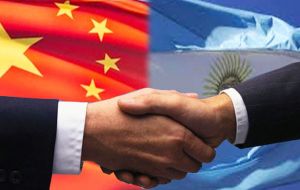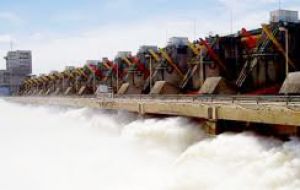 By Alex Calvo (*) - Chinese Leader Xi Jinping's state visit to the United Kingdom has been met with grand-sounding headlines, including references to a "golden era". Public statements by both governments have focused on growing economic links, while some voices referred to human rights and US commentators expressed their concern at London's closeness to Beijing at a time of increased tensions in the Indo-Pacific, above all the South China Sea.
Concerns include Chinese entry into the British nuclear industry. While trade and investment links are important, and China is seen as providing great opportunities by many industries, we should not forget that foreign policy is much more than the mere promotion of economic exchanges. A government's first and foremost duty is to provide security to Her Majesty's subjects, and this includes preventing other powers from supporting hostile states laying claim to British subjects regardless of their wishes.
In the last few years Beijing has become a key partner for Buenos Aires, in terms of both trade and financial assistance, and military modernization. Thus, a major objective of British foreign policy must be to prevent China from helping Argentina change the balance of military power in the South Atlantic.
China: Argentina's white knight at a time of growing economic trouble?
Chinese thirst for commodities has increased Beijing's interest in countries like Argentina. Bilateral trade hit a historic record in 2014, amounting to 11.5% of the Latin American country's foreign trade and having multiplied by 16 since 1994. China is playing an increasingly important role in Argentine infrastructure construction, geared towards the exploitation of the country's significant natural resources. An example are the Nestor Kirchner and Jorge Cepernic dams in Patagonia, with China is financing to the tune of USD 4.7 billion and which a subsidiary of Chinese engineering and construction conglomerate Gezhouba Group is building.
RMB swaps are also very important for Buenos Aires, given her difficult relation with the international financial markets. The US Council on Foreign Relations has noted that:
'Last year Argentina activated the swap line, and has since drawn a reported $2.7 plummeted from $53 billion in 2011 to $31 billion today. As such, the swap lines are being used less to settle Chinese goods trade than as a palliative for those billion of an available $11 billion. Under the agreed terms, the RMB may be freely converted into dollars. This is significant for Argentina, whose dollar reserves have unable to rely on the U.S. Federal Reserve, or in Argentina's case most of the international banking system'.
Chinese diplomatic support: goodbye to UNSC 502?
Beijing explicitly and consistently supports Buenos Aires' claims to the Falklands, and this has been repeated on myriad occasions and statements. For example, in December 2011 then Chinese President Hu Jintao's special envoy Jiang Shusheng, who is also vice chairman of the Standing Committee of the National People's Congress, said 'solidarity with Argentina on the Malvinas issue is an invariable position of China's foreign policy.'
In addition to cementing bilateral relations with Buenos Aires, there are two powerful reasons for Beijing to take this stand. First, China is keen to emphasize the alleged parallels, in her view, between the Falklands and Taiwan. Second, given her extensive territorial claims and willingness to use limited force to secure them, Beijing has a clear stake in leaving the door open to border changes prompted by a mixture of diplomacy and coercion.
London cannot turn a blind eye to this Chinese policy given that, as a permanent member of the UN Security Council, Beijing could veto another UNSC resolution 502. This resolution was passed after the Argentine invasion of the Falklands and constituted an early victory for the UK, which could proceed to liberate the Islands under the cover of legitimacy provided by the United Nations. Although at the end of the day it is military power and the willingness to use it if necessary which guarantees the Falklands' right to self-determination, we should not underestimate international law's contribution when it comes to gathering support in the court of world public opinion.
Does Beijing hold the key to Buenos Aires' rearmament?
Argentina lost most of her conventional military power in the wake of her defeat in the 1982 war and subsequent fall of the ruling military Junta, with shrinking defense budgets mostly devoted to cover personnel expenses and much of her hardware not properly maintained. However, Buenos Aires has never renounced the use of force against the Falklands, and the temptation to rearm is still there, a temptation that could materialize with Chinese help.
This is no mere speculation, China is already providing some hardware to Argentina, including five offshore patrol vessels provocatively labeled "Malvinas Class", a version of China's Shipbuilding Industry Corporation (CSIC)'s P18 export corvette. The deal may involve building two ships in China and co-producing three in Argentina. These vessels are 95-meter-long, displace 1,800 tons, and have a maximum speed of 25 knots. Their armament can include a 76 mm main gun, two 30 mm cannons, up to eight anti-ship missiles, and two triple torpedo launchers. They can also carry a helicopter.
The possible acquisition of Chinese FC-1/JF-17 has long been discussed, with Defense Minister Agustín Rossi publicly confirming it was on the cards in March 2015. Jane's describes the plane as:
'Powered by a single Russian-designed but Chinese-built Klimov RD-93 (RD-33 derivative) turbofan, it has a top speed of Mach 1.6 (at altitude); a radius-of-operation of 648 n miles (1,200 km) as a fighter and 378 n miles (700 km) as a ground attack platform.'
Adding that it has:
'Seven under-wing/fuselage hard-points, and is equipped with an internal GSh-23-2 twin-barrel cannon. Weapon options include up to four PL-5, -7, -8 or -9 short-range air-to-air missiles (AAMs) or four PL-12/SD-10B medium-range AAMs; two C-802A anti-ship missiles; two anti-radiation missiles; five 500 kg bombs; twin launchers for up to eight 250 kg, MK-20, GBU-12 or anti-runway bombs; single 1,000 kg bomb or GBU-10; or up to three mission pods'.
There have been some speculation about a naval variant of this plane, which would multiply its potential value for Buenos Aires.
Other possible areas of cooperation in the defense industry are the 'co-production in Argentina of the Norinco VN1 wheeled armored personnel carrier (APC) and co-operation in building a new ice-breaker, naval tugboats, mobile hospitals'. In 2011 the Fábrica Argentina de Aviones (Argentine Aircraft Factory: FAdeA) signed a deal to start co-producing China's Changhe Z-11 light helicopter.
The long shadow of non-lethal warfare
Even if the most ambitious plans for defense industry cooperation never materialize, a mere upgrade of coastguard capabilities could amount to a potential threat against the Falklands, given the possibility that Buenos Aires may resort to non-lethal force. Moving in that grey area between war and peace, Buenos Aires may seek to use a limited degree of non-lethal force, in the hands of stage agencies or private organizations, in a bid to harass the Falklands and raise the cost of holding them, hoping to prompt negotiations. This is one of China's strategies in areas like the South and East China Seas, in line with other revisionist powers in regions such as the Strait of Gibraltar.
In connection to this, we should mention China's space tracking station for lunar exploration in Neuquen (Patagonia), planned to start operating in 2016. Richard D. Fisher Jr. (International Assessment and Strategy Center) told the U.S.-China Economic and Security Review Commission on 18 February 2015 that 'A Chinese-armed Argentina with access to Chinese space ISR may be able to better threaten war to take the Falkland Islands'.
Conclusions
No matter how appealing expanded trade and investment links with China may be, the first and foremost duty of Her Majesty's Government is to protect the Queen's subjects. Given Chinese diplomatic, economic, and defense industry, support for Argentina, which claims the Falklands with no regard to her population's wishes and without renouncing the use of force, British policy towards Beijing must seek to restrict such support.
Among others, London must strive to prevent the transfer of weapons systems that may significantly tip the balance of military power in the South Atlantic, and seek to prevent the principles embodied in UNSC 502 from degrading under the weight of Beijing's diplomatic-naval offensive in the East and South China Seas.
(*) Alex Calvo is a guest professor at Nagoya University (Japan) who specializes in defense and security in the Indian-Pacific Ocean Region. This piece was published in 'Conservatives for Liberty'. His previous work on the connection between East Asia and the South Atlantic includes "Marines, Missiles, and the Iron Lady: The Military Leg in Japan's Ocean Strategy" and "The Asia Pacific Journal: Japan Focus, Volume 11, Issue 49, No. 1, 9 December 2013″. Follow him on Twitter: @Alex Calvo