Macri ahead of Scioli, with 8.8% still undecided shows first poll following Sunday's vote
Thursday, October 29th 2015 - 07:18 UTC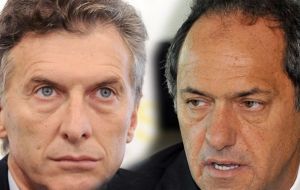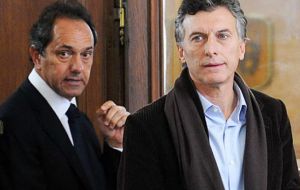 The first public opinion poll released since Argentina's Sunday presidential election and ahead of the 22 November runoff indicates that the opposition candidate Mauricio Macri is a few points ahead of incumbent Daniel Scioli in a tight race but still with a large percentage who remain undecided.
According to the González & Valladares poll, done on Monday and Tuesday, Macri figures with a vote intention of 45.6% against 41.5% for Scioli, with an additional 4,5% who anticipate a blank vote and 8.8% of interviews undecided.
A projection of these percentages gives a final score of 50% for the outgoing mayor of Buenos Aires city and 45.5% for the current governor of Buenos Aires province, Argentina's largest electoral district representing 35% of voters, where Cristina Fernandez appointed candidate Anibal Fernandez lost to Maria Eugenia Vidal.
Ms. Vidal becomes the first woman governor of the province which is a stronghold of Peronism, where it had never lost an election since 1983.
The big difference rests in the attitude of those 5.2 million who last Sunday voted for Peronist dissident Sergio Massa, 21, 25%.
Of this percentage, and according to the poll, 45% are inclined to vote for Macri, while only 22.3% for Scioli and 8.3% a blank vote, but this leaves 24.5% of Massa's voters still undecided about what to do next 22 November.
Regarding fourth ranked presidential hopeful Nicolas del Caño who garnered 3.3% of the vote, and are definitively against 'continuism' and the Massa option, 54.5% anticipated a blank vote; 15.2% favor Scioli and 5.2%, Macri. But there is also 25.1% who still don't know what attitude to adopt.
Those who supported Margarita Stolbizer (2.5%), almost four out of ten (39.2%) feel inclined to support Macri, with only 9.4% for Scioli. Finally Adolfo Rodríguez Sáa who obtained 1.7% of the Sunday vote, 36.1% will support Macri and 31.2% Daniel Scioli.