Cristina Fernandez calls at emotional rally to defend her progressive policies
Friday, October 30th 2015 - 07:15 UTC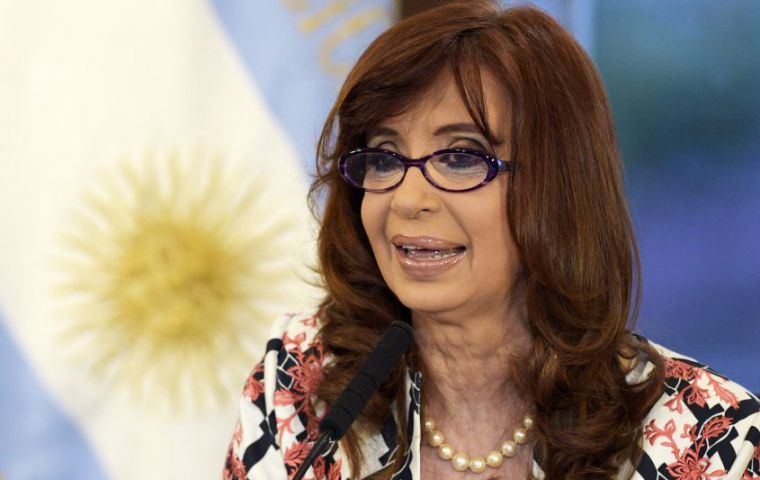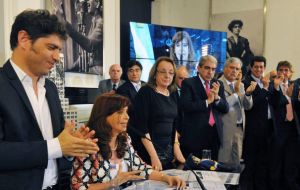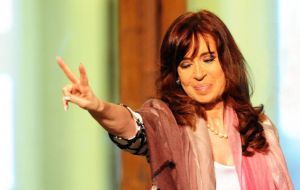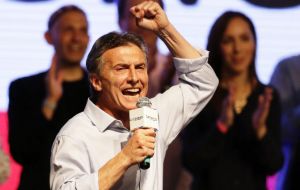 Argentina's outgoing leader Cristina Fernandez gave an emotional campaign speech on Thursday in her first public address since a surprisingly weak performance by her handpicked candidate in the first-round presidential election on Sunday. Without mentioning allied candidate Daniel Scioli by name, the outgoing president implicitly backed him by calling for support for her progressive social policies to go on after she hands the presidency over to her successor in six weeks.
"Who is the candidate who can guarantee our policies continue?" Fernandez asked in a clear reference to Scioli. "What's important is that our policies are carried on. Names are not important," she said at a televised rally before thousands of applauding and chanting supporters gathered in Government House and at Plaza de Mayo.
Scioli, who did not attend the event, is running against opposition leader Mauricio Macri in the November 22 run-off vote. Macri defied opinion polls on Sunday by getting enough votes to easily force a second round. Polls were forecasting almost a ten-point difference which finally shrinked to two points and a half.
Polls apparently failed to catch the mood of voters who seem exhausted of twelve years of Kirchnerism, four from her deceased husband Nestor, and two consecutive from Cristina, which injected to politics a confrontation Bush-style, "with me or against me" and was funded with years of free-spending populism.
However reality indicates that the commodities boom is over and Argentina has barely sufficient international reserves, high inflation and a recessive economy, much camouflaged behind questionable stats, plus an ongoing international litigation with holdout funds demanding billions of dollar from the 2002 defaulted sovereign bonds.
"I am not a candidate for anything," said Cristina Fernandez, who is barred by law from seeking a third consecutive term this year. "But when I leave, please God, I don't want to see ruined what it took us years to build!" she said, her voice breaking with emotion while some listeners at the rally wept.
In effect she went over the milestones of the twelve years of Kirchnerism which accordingly put Argentina back on its feet following the 2001/02 meltdown, and in her case "cost me the most, my life companion whom I can't recover" in reference to her late husband Nestor Kirchner.
Loved by many of the country's poor for strengthening Argentina's social safety net and a system of political payouts, Cristina Fernandez could return as a presidential candidate in 2019.
Macri on the other hand promises a sharp turn toward friendly market policies, supported by farmers and some industries, while Scioli vows to continue the programs that are working for the poor while gradually changing macro-economic policies where a more orthodox approach is needed.
Cristina Fernandez took a few shots at Macri, although she did not name him, alluding to him changing his position earlier this month regarding the nationalization of Argentina's main energy company YPF and airline, Aerolineas Argentinas. She also mentioned the fact that the opposition candidate did not support same sex marriage, and again admitted repenting.
"We, with all our errors and defects, are who we are. We are not one thing one day and something else another," she said. And "when fighting with the 'vulture' funds (holdouts) you can't say one thing one day and another, another day, because excuse my language, on doing that you're screwing 40 million Argentines".
In a lighter tone, Cristina Fernandez said it was the first time the run-off (or second round) would be applied in Argentina, contemplated in the constitution, and underlined the fact that next December five provinces would have female governors, including her sister in law, Alicia Kirchner, in Santa Cruz, who sat next to her during the main rally.
But the president also had words of praise, and asked for respect from the audience, when congratulating opposition Maria Eugenia Vidal, with her '36 few years', the first elected woman governor of the province of Buenos Aires, which is Argentina's main electoral district, and who defeated her cabinet chief Anibal Fernandez.
However the president had time to inject some of her typical irony recalling that Ms Vidal also is married, and her husband was elected mayor of Moron, an important district of Buenos Aires, "it's not only us Peronists who have relatives involved in politics".
Cristina Fernandez also strongly supported the Argentine electoral system, which she said, was "questioned all along by the opposition", but "has proved to be most effective, transparent and trustworthy". Likewise the outgoing president emphasized to voters that when depositing their vote in the ballot box "you are depositing your expectations, dreams, it's not a football match or a names' match, so remember all we have achieved and all we could lose".
Finally, "I beg you all not to defend a government, but to defend your rights, all that was conquered. For one instant remember how Argentina was back in 2003 and where we stand now, and just think which is the political force that can guarantee all which was achieved and en route to make Argentina even greater".