Malvinas Cause pamphlet to be released this week in Tierra del Fuego
Friday, October 30th 2015 - 06:21 UTC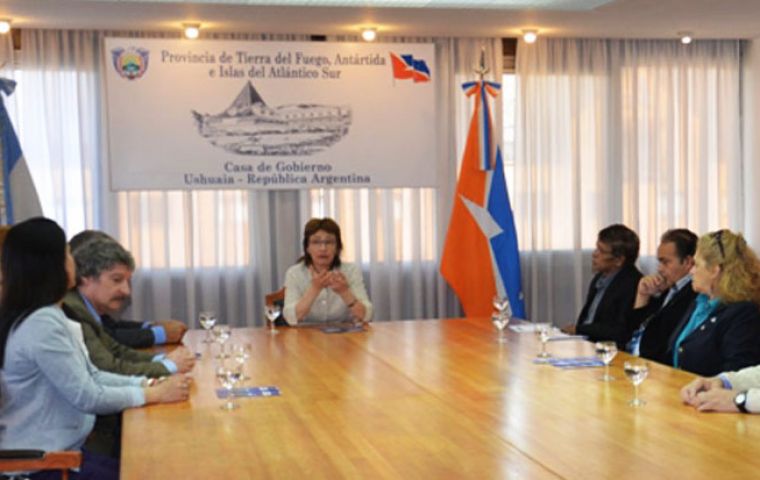 Tierra del Fuego governor Fabiana Ríos and members of the Malvinas Observatory met at Ushuaia government house to thank Ushuaia Bureau for the design and elaboration of the Malvinas Cause pamphlet which outlines the Argentine position in the Falklands Islands sovereignty claim and will be released later in the week.
"Some time ago we contacted the Ushuaia Bureau and they kindly agreed to draft the bi-lingual pamphlet in support of Argentina's sovereignty rights over Malvinas under the umbrella of the Malvinas Question", said governor Rios.
Members of the Observatory were also looking forward to thank the Ushuaia Bureau for their commitment in making Argentina's message clear to the world and to all Argentines, added the governor.
Likewise the top official underlined the incorporation of the local Observatory chapter to the country's net of Malvinas Observatories, which she said is the first to include representatives from political parties, public opinion and community members.
Dario Urruty, head of the Ushuaia Bureau said "we are honored of having made the literature into a graphic piece which resumes in English and Spanish, reasons and arguments by which the Argentine people and Tierra del Fuego, as capital of the Malvinas Islands, want to transmit to the world our legitimate claims".
Finally Malvinas Observatory deputy head Angel Zambrano acknowledged the quality of the Ushuaia Bureau pamphlet design and production, which was sent to the Ministry of Foreign Affairs to check on the data and presentation.
Copies will be distributed beginning Sunday, November first during the Malvinas Marathon which is scheduled to take place in Rio Grande, Tierra del Fuego.