Two Chinese nuclear plants for Argentina in a 15bn dollars deal
Tuesday, November 17th 2015 - 08:54 UTC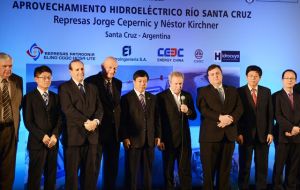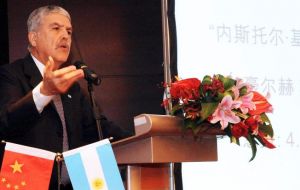 Argentina signed two nuclear power plant construction deals with China on Sunday worth around US$15 billion, which would add 1,750 megawatts to the energy already produced by the country's three nuclear power plants.
About 85% of the cost of the project will be financed by Chinese firms, to be paid back in 18 years at an annual interest rate below 6.5%. More than 60% of the supplies will be Argentine manufactured, while the rest will be imported from China, Economy Minister Axel Kicillof said after signing the agreements alongside Planning Minister Julio de Vido, in Turkey in the framework of the G20 summit.
"The agreements are of historic importance. They are very favorable for us as they give us energy and competitiveness. Both plants will be built with a lot of Argentine material," Kicillof said. "Everything that we have done over the past 12 years will be capitalized with the steps we are taking on nuclear energy."
The new deal represents a strong sign of the budding commercial relationship between Buenos Aires and Beijing at a time when Argentina has been locked out of international credit markets due to the legal conflict with the "speculative" funds. Ties between Argentina and Beijing have been deepening since the visit of Chinese President Xi Jinping to the country last year.
"It's the highest investment anyone has ever made in the country, considering the preferential interest rate and the payment terms that were included in the agreements," De Vido said. "It's an essential step to diversify the country's energy matrix by increasing the share of the nuclear power, whose development over the past few years has been a state policy."
More than 90% of Argentina's energy matrix relies on hydrocarbon resources. Natural gas is by far the most common fuel in thermal plants that dominate the country's energy sources. That is followed by hydroelectric power and then nuclear power and renewable energy with less than one percentage point.
The deal follows other significant Chinese investments in hydroelectric and nuclear energy, plus railway and maritime infrastructure. Argentina is already moving forward with the construction of two large hydroelectric plants in Santa Cruz called Kirchner and Cepernic, a project that will cost US$4.7 billion and will be financed by Chinese banks.
Following the signature of the agreement with China, Kicillof met with his Brazilian counterpart Joaquim Levy and highlighted the relationship between the two countries.
"We reviewed the current solutions that are being studied across the globe to solve the world crisis. A serious issue would be if they start to point the finger toward developing countries, saying they're the ones to blame for the world's slow growth rate," Kicillof said.