Falklands MLA hopes for 'saner' approach from new Argentine president
Friday, November 27th 2015 - 07:23 UTC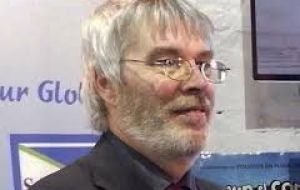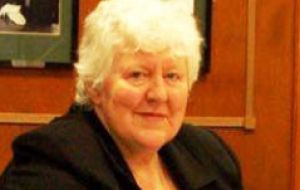 Falkland Islands lawmakers have reacted with caution and expectation to the election of Mauricio Macri, ex Buenos Aires mayor, as Argentina's next president. He will succeed on 10 December Cristina Fernandez and twelve years of rough relations with Kirchnerism and constant intimidation.
In the Falkland Islands Government Legislative Assembly a number of Members commented on his election.
MLA Gavin Short said: "I think we all hope that under his leadership we may see a saner approach to life in the southern cone in general and relations between our two countries in particular."
He cautioned however, "unless and until whatever Argentine government admit to their people that they have been lying to them for many, many years regarding their supposed claim over the Falkland Islands, even if an Argentine government was the most reasonable in the world... their intentions remain the same, and that is to take our country away from us. So let's not get too starry eyed."
MLA Jan Cheek said: "It will be interesting to see what develops in the coming months after the change in government in Argentina.
"As always I think we stand ready to conduct a good neighborly relationship with all our South American neighbors if they reciprocate that sentiment."
President elect Macri pledged his main objectives were to reach zero poverty, combat the narcotics trade and insecurity and give Argentines, a land of entrepreneurs, a chance to build.
He also said: "To our brothers from the region and the world: we want to have good relations with all countries, we want to work with all countries on a cooperation agenda."
Mid week he announced the country's foreign minister will be Susana Malcorra currently Head of the Cabinet of UN Secretary General Ban Ki-Moon. She will replace Hector Timmerman, notorious in the Falklands for stating there was "no such thing as a Falkland Islander".
Mr. Macri has made it clear he is committed to the principle of Argentine sovereignty over the Falkland Islands but while Mrs. Cristina Fernandez de Kirchner accused Britain of "militarising" the South Atlantic, and called David Cameron "illmannered", Mr Macri's team has spoken of "broadening" the "important" relationship with Britain.
Macri said little to nothing about the Falkland Islands during the election campaign, but at the time his opponents seized on comments he made in 1997: "I never quite understood the sovereignty claims of such a big country as ours. We don't have a space problem. Malvinas will become an additional deficit for the country's accounts."
Unlike Cristina Fernandez he has declared no intention of having a Minister dedicated to the issue of the Falkland Islands. (PN).-