Argentina's new administration package of economic measures next week
Saturday, December 12th 2015 - 07:11 UTC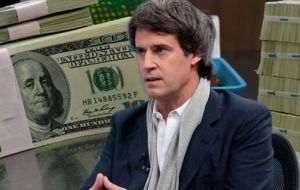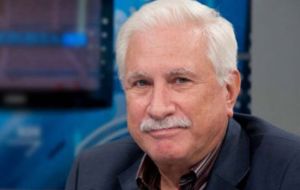 Argentine finance minister Alfonso Prat-Gay announced on Friday that next week levies on farm (grains and oilseeds) exports will be lowered, the half year bonus of wage earners if below 30.000 Argentine Pesos will be exempt from income tax, and the policy of "looked-after prices" at supermarkets will continue.
The minister made the announcements during the swearing in ceremony of his economics' team, and again emphasized that the clamp on the US dollar will be lifted as soon as possible, "but when conditions are ripe".
The minister also advanced that the Central Bank's dollar future contracts are under review, but no decision has been reached. However the acting president of the central bank Federico Sturzenegger anticipated to banks the government's plans.
The Cristina Fernandez administration had implemented a system of dollar future contracts, at a price below the 'blue' of black market level, and hundreds of millions of dollars have been sold under those conditions seriously limiting monetary and credit policy in an economy which is estimated to have an inflation in the mid twenties and a budget fiscal deficit in the range of 7% to 9%.
The new team includes Pedro Lacoste as deputy minister and Economic policy secretary; Luis Caputo, Finance secretary; Marcelo Griffi head of the Legal and Administrative department, and Gustavo Marconato as Revenue secretary. During the ceremony the new head of the Indec stats office, Jorge Todesca was presented.
This is a significant move since Todesca has been head of the office before the Kirchners' when they removed all those contrary to the administration's 'guided' (manipulated) inflation and growth rates. Todesca, an economist and statistician by training re-contracted many of those fired under the Kirchners and promised transparent reliable stats.
Prat-Gay said he had no idea yet what would happen with the exchange rate when the dollar clamp is lifted, but mentioned the good reply from a group of US banks willing to lend to Argentina, which together with trade and investment dollars, and those held by Argentines at home under the mattress, and farmers, "should gives us the sufficient foundation to support any unification of the exchange rate".
The minister also mentioned an extension of the currency swap with China, which is currently under discussion.
As to inflation and prices, Prat-Gay admitted that the government is concerned, because so much money has been printed and issued, and people have been increasing prices, but "we're holding talks with different sectors to reach an understanding; in the meantime the 'looked-after prices' scheme remains in place.