Without dropping Falklands claim, Macri wants "a new era" in relations with UK
Wednesday, January 20th 2016 - 06:23 UTC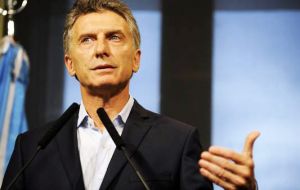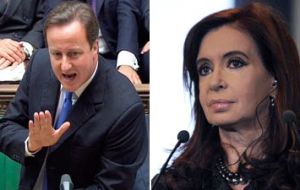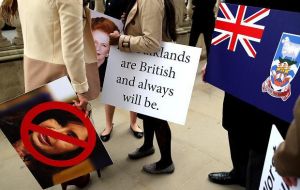 Argentina's new president, Mauricio Macri, says he wants to start "a new era" in relations with Britain, long strained by the two nations' dispute over the Falkland Islands, according to remarks published Tuesday.
"We will keep our claim over the islands which are Argentine, but I will try to start a new era in ties with Britain," he said in a joint interview with Spain's daily El Pais, Britain's The Guardian, France's Le Monde and Italy's La Stampa.
Macri's populist predecessor Cristina Fernandez and British Prime Minister David Cameron clashed very publicly over the Islands, which are claimed by Argentina. The tensions between the two leaders over the issue came to a head in 2012 at a G20 summit after Cristina Fernandez tried to hand Cameron a package of papers relating to the disputed Falklands/Malvinas Islands and he refused it.
Argentina claims it inherited the remote, wind-swept archipelago from Spain when it gained independence while Britain says it has historically ruled them and that Islanders have the right to self-determination and to develop their economy.
In a March 2013 referendum, 99.8% of the almost 3.000 resident voted to remain a British overseas territory.
Pressed whether his conciliatory tone towards Britain would mean more trade, better transport links and other changes requested by the Islanders, Macri avoided specifics.
"I want to sit down and start talking about the subject and in the meantime find in which ways we can cooperate," he was quoted as saying by The Guardian during his first interview with the foreign media since taking office last month.
Macri, 56, adopted a conciliatory tone throughout the interview granted at his presidential office before he headed on Tuesday to the World Economic Forum in Davos, Switzerland.
It will be the first time that an Argentine president attends the annual gathering in twelve years.
"Argentina wants to have good ties with the entire world. I want to create jobs, I have committed myself to an Argentina with zero poverty. We need investment," he said according to El Pais.
PM Cameron rang Macri to congratulate him on his election as president and the two leaders spoke on the phone several minutes. His foreign secretary Susana Malcorra also adopted a conciliatory tone saying that the 'Malvinas' issue, without dropping the claim, should not be an obstacle for better relations with the UK.
Macri also said his government would solve a long-standing dispute with bondholders in the United States which has for years blocked Argentina's access to global capital markets.
"Our plan is to end all past conflicts. We are going to negotiate with the best attitude," he said when asked if his government would end the dispute.
Argentina's new government reopened talks with bondholders in New York last week. Argentine officials say they plan to submit a proposal later this month. The previous administration of Cristina Fernandez had refused to compromise with the creditors, mainly hedge funds it branded "vultures," after a US court ordered the country to pay the full value of bonds that Buenos Aires defaulted on some 15 years ago.