Venezuelan lobbying for oil production reduction: tour begins Monday in Russia
Monday, February 1st 2016 - 06:22 UTC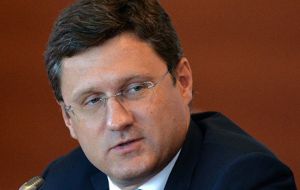 Venezuelan Oil Minister Eulogio Del Pino will visit Russia, Qatar, Iran and Saudi Arabia on a tour of OPEC and non-OPEC countries intended to drum up support for action to stem the tumble in crude prices.
"These are four key countries we'll be meeting as part of the formal proposal Venezuela made to OPEC and non-OPEC countries," said Del Pino, who is also head of state oil company PDVSA, according to a statement from the firm.
The Organization of the Petroleum Exporting Countries is considering a request from cash-strapped Venezuela to hold an emergency meeting. President Nicolas Maduro's government wants that to happen in February and is seeking that non-OPEC producers attend.
Del Pino will meet Russian Energy Minister Alexander Novak on Monday and the country's leading oil producers the following day, PDVSA said. On Wednesday Del Pino will meet Qatar Energy Minister and current OPEC president Mohammed al-Sada. He will then visit Iran and Saudi Arabia, the statement added.
Russian Deputy Prime Minister Arkady Dvorkovich on Friday played down expectations Russia could coordinate with OPEC to arrest the fall in oil prices by reducing production, saying the state would not intervene to balance the market.
Oil prices jumped in the last two days after Russian energy officials said they received proposals from OPEC lynchpin Saudi Arabia on managing output and were ready to talk.