Argentina and Uruguay unable to arrest a Chinese flagged poaching jigger
Friday, March 4th 2016 - 06:39 UTC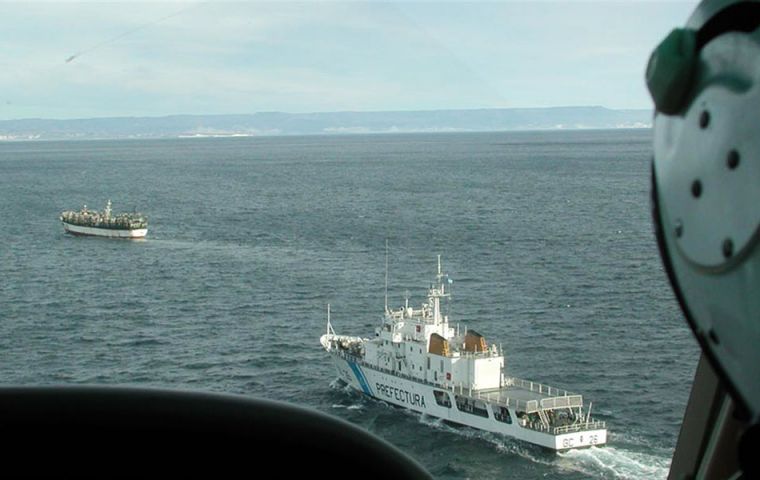 The Argentine Coast Guard and Uruguayan navy failed in capturing a Chinese flagged jigger poaching in the two countries shared waters. According to non official reports, two Argentine Coast Guard vessels and a helicopter plus a Uruguayan aircraft and vessel were involved in the attempt to arrest Hua Li 8.
Apparently the Chinese vessel was radar detected last Tuesday early morning at the San Jorge Gulf illegally operating and was repeatedly warned in Spanish and English. This was followed by visual and sound signals but to no avail.
The Hua Li 8 was located just inside Argentina's EEZ, and responded to the calls by turning all lights off and rushing away into international waters, according to the Argentine Coast Guard.
However on Thursday she was again detected moving inside Argentine EEZ, and 'most probably heading for Uruguay' so the neighboring country naval authorities were put on alert of the incident.
The Hua Li 8 was being chased by two Argentine coast guard vessels, PNA Delfin and PNA Mantilla and a naval helicopter, and Uruguay, after been warned dispatched a naval aircraft and a vessel to catch the poacher.
However the Chinese jigger kept steaming eastwards at the edge of the River Plate and managed to escape the Uruguayan effort. The Argentines ceased action when the Hua Li 8 entered the Uruguayan side of the River Plate.
The Argentine coast guard later reported the incident at the Federal Court in Comodoro Rivadavia and identified the Hua Li 8 as a fifty meters long jigger, with its home port at Zhou Swan in China.