Cristina Fernandez and son Maximo accused of illicit enrichment
Tuesday, May 3rd 2016 - 08:30 UTC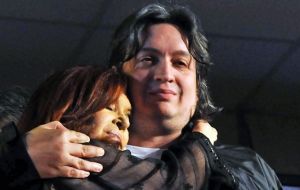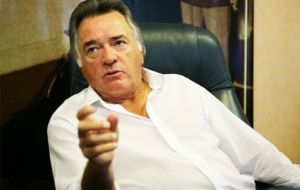 Argentine court has asked a judge to look into accusations of illicit enrichment against former President Cristina Fernandez and her son Maximo Kirchner, state press agency Telam reported on Monday.
Fernandez, who left office in December after eight years and was replaced by center-right Mauricio Macri, has already been accused of money laundering and overseeing irregularities at the central bank while she served.
The cases have sparked demonstrations by her supporters, who say she is being persecuted by a new government bent on revenge. Fernandez is a divisive figure, revered by many for generous welfare programs and reviled by others for her economic policies and apparently insatiable ambition for money and power.
The latest accusation, issued by a public prosecutor, was initiated by an opposition politician. Fernandez and her son have been accused of illicit enrichment and the falsification of public documents relating to a company called Los Sauces, Telam said, citing legal sources.
It said that Los Sauces in 2009 had over 9 million Argentine pesos ($635,000 at current exchange rates) in property investment. A spokesman for the attorney general's office said the investigating judge had issued a secrecy order on the case.
Under Argentine law, the judge will decide whether to accept the charge and open an investigation. The case refers to one of many properties of the Kirchner family, mostly hotels which were contracted by associate businessmen, but were never actually occupied.
This is believed to be the system used by the family and associates to clear overbilling money from public works contracts, since supposedly the hotels were never empty. This even during the two months that no aircrafts could fly to the extreme south Santa Cruz province because of an Andes volcano eruption spewing ashes.
"I'd like to see the bills for croissants from the local bakeries if the boutique hotels were fully occupied. Some of my people from the food workers union were employed in the hotels so I know the full story" said challenging union leader Luis Barrionuevo who during the Kirchner couple years was blacklisted.