Falklands museum receives gift of a Sea King SAR helicopter
Wednesday, May 4th 2016 - 12:11 UTC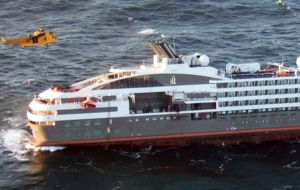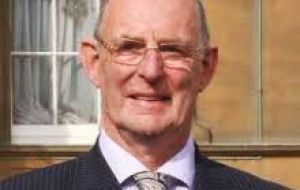 The ex-Royal Air Force (RAF) Sea King helicopter, XZ593, is to be gifted to the Falkland Islands Museum and National Trust to commemorate its gallant service to the Falklands, Commander British Forces South Atlantic Islands, Commodore Darren Bone RN, has announced.
The helicopter was one of the last two RAF Search and Rescue (SAR) aircraft to be flown in the Falkland Islands. She was involved in many rescues, notably taking part in the Le Boreal operation in November last year.
Commodore Bone said: "For over a generation the Sea King has been a reassuring sight across the Falkland Islands. It has gone to the rescue of Islanders, military personnel and numerous fishermen and sailors..."
He added: "The yellow Sea King has been a demonstrable link between the British Forces South Atlantic Islands and the Islanders and reflects the close cooperation and interaction that continues between the two communities. It is fitting that this aircraft should stay in the Falkland Islands."
Richard Cockwell, Chair of the Trustees of the Museum, said: "We are utterly delighted to accept this gift. We hope that it will be the catalyst for bringing to life our vision for a new exhibition hall in Stanley, big enough to display XZ593 alongside many other larger exhibits which are currently in storage."
RAF SAR aircraft and crews have kept watch over the Islands since 1983. A new civilian contract for SAR provision with the Falkland Islands came into effect this year. (Penguin News).