Strong support for the Falkland's right to self-determination on North American Tour
Thursday, May 5th 2016 - 21:12 UTC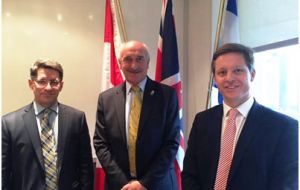 Falkland Island's Legislative Assembly member, Mike Summers, recently travelled to North America on a three week trip to gauge support for the Falklands' right to self-determination from the new Canadian Government. In addition to visiting Canada, MLA Summers also made stops in Miami and the Bahamas.
Last week Falkland Island's Legislative Assembly member, Mike Summers, returned from a three week tour of North America, which included visits to Canada, Miami and the Bahamas. The primary purpose of his trip was to Canada where he met with members the new government to gauge how they might approach any issues regarding the Falklands.
Speaking to MercoPress earlier this week, MLA Summers stated that traditionally Canada had been very supportive of the Falklands and its government, but with a new Liberal Canadian Government under the Prime Ministership of Justin Trudeau, and also a new Argentine Government in place, it was "important to go speak with the new government [in Canada] to see how they might approach the Falklands and its right to self-determination" in the future.
MLA Summers confirmed that the Falkland Islands Government was "very happy" with the outcome of all discussions held in Ottawa with various members of the Canadian Government and that the new Canadian Government confirmed it would continue to support the Falkland Islands and its people, and their right to self-determination. Canada has a long association with the principle of self-determination with over 1 million indigenous peoples (First Nations, Inuit and Métis peoples) living within its borders.
Whilst in Ottawa, MLA Summers met with a variety of government officials including members of the Foreign Affairs Committee from all political parties, the UK-Canada Parliamentary Association and the Canada CPA. He also met with Canadian MPs responsible for defence and the Foreign Ministry. All of the meetings included a small briefing on the Falklands, an update on hydrocarbons activity, discussions on the new Macri Government in Argentina and its position on the Falklands, and seeking continued support for the Falkland's right to self-determinations.
Prior to his meetings in Ottawa, MLA Summers first stopped in Montreal where he visited a family who had been aboard the cruise vessel, Le Boreal, which had caught fire off the coast of the Falklands in November last year. In addition to Canada, MLA Summers also stopped off in the Bahamas where he attended a Commonwealth Games Association meeting – the Falklands has been sending athletes to the games since 1982 – and in Miami where he visited the offices of Congressman Mario Diaz-Balart and former Republican Presidential Primary candidate, Senator Marco Rubio, to also discuss support for the Falkland's right to self-determination.
He also held meetings in Miami with two cruise companies, Silversea and Carnival Corporation, to discuss future business in the South Atlantic.